Bat for Lashes laid bare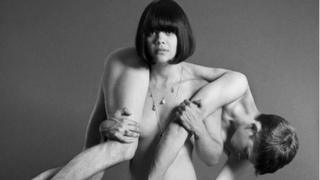 Feeling "overwhelmed" by the experience of her last tour, Natasha Khan struggled - not just with songwriting - but with the ups and downs of life.
Her second album, Two Suns, reached number five in the UK album chart in 2009, was nominated for the Mercury Prize and produced her first UK top 40 single, Daniel.
But a bad break-up and a dramatic lifestyle led Khan - aka Bat for Lashes - to retreat to her flat with a new kitten, lots of blankets and wholesome food.
"I felt lost and buffeted by all of the travelling and singing about really dark things over and over again for two years.
"I'd properly purged all that emotion and it was time to replenish and nurture myself in order to move on," says the British singer-songwriter.
Casting demons
Three years on, she has produced The Haunted Man, which she describes as the "hardest" but most "honest" album she's every made.
Less theatrical than her previous efforts that saw her play with alter egos and fancy dress, The Haunted Man is an intimate account of her personal journey through life, shedding her demons and relationship baggage along the way.
"There have been certain things that have happened in my life - with men in my life - that have affected me and I realised that they weren't my fault.
"To be conscious of those patterns, the dynamics in your family that aren't really your fault; to have empathy and compassion for them and heal them means you can let them go and make different choices."
The pressure of the second album didn't really materialise for Khan; the challenges came with the third.
It took her two and a half years to complete The Haunted Man and while she wrote lots of songs in the first year, "nothing was coming of any importance".
"It was such a struggle over such a long period of time to keep it on the straight and narrow.
"I had really high expectations. I'm very critical of myself, naturally, and I was terrified of not being able to reach the peak that I wanted to reach."
Power of film
The breakthrough came as she watched David Lean's film, Ryan's Daughter, set in 1916 Ireland.
It's an emotional tale of a married Irish woman who has an affair with a British soldier, despite opposition from her nationalist neighbours.
"There was a moment in the film when all these lilies were blowing violently, a moment heavy with desire and unexpressed [feelings] and it [was] so sensual and beautiful and romantic.
"I was really feeling for her because I felt blocked creatively," she adds.
The scene directly inspired the album's title track which, in its opening moments "describes how I feel so stifled and nothing's happening, but eventually there's that 'thank God, I'm alive' breakthrough."
Khan, now 32, says turning 30 was a "pivotal moment".
"I decided I didn't want to be haunted by that haunted man anymore. I didn't need to rescue that or attract that into my life."
Posing naked
This album is Khan's way of telling the world she no longer believes she is haunted. And not just through the music but visually, too.
The controversial album cover in which she is pictured standing naked with a man draped over her shoulders "could be a lover I'm trying to get off my back or a ghost from a long time ago".
Based on a series of images by the revered New York photographer Ryan McGinley, in which boys and girls appear with wolves around their neck, Khan wanted to "present a multi faceted photo in which I could be looking vulnerable".
She insists it was never intended to shock or cause controversy.
"It was more like a piece of art in my mind. When it came out and there was a hoo ha about it, I suddenly realised that [it] was quite a bold statement.
"But it was interesting to me as I wasn't wearing any make-up, it wasn't a provocatively sexual image.
"For young girls [now] so much of what is out there is lipgloss and photoshop and here I am with no make up on and just being. It's not purely for the male gaze."
'Control freak''
McGinley was one of several of collaborators on the album - unlikely as it may seem for a "massive control freak" who normally prefers to work alone.
But working with people like Beck and Justin Parker, who was responsible for Lana Del Ray's Video Games, enabled Khan to "open her heart" to different perspectives.
"The people I chose to collaborate with were extremely nurturing and generous and free. They very much knew that this album was my vision and extremely personal to me.
"[Writing the album] felt like a novel, when you keep doing rewrites and you edit. It was a constant layering but then stripping back the layers and leaving the essential, concentrated elements."
The most collaborative effort can be heard on Laura, a stop-in-your-tracks ballad with melancholic piano chords accompanying Khan's pure, crackling vocal.
Parker was "instrumental" in writing the chord structure while Khan came up with the melody for her own vocal and arranged the string and horn segments.
On an album which plays heavily with synth, drums, beats and complicated arrangements, Laura stands out for its simplicity and leaves you wanting more of Khan's enchanting and stripped back vocal.
There's no other track quite like Laura on the album, but that may be something to listen out for in the future.
"I have thought that I wouldn't mind doing a tour of just me and my piano, so we'll see."
Khan is "excited" for the theatrical element of her forthcoming UK tour which is "quite minimal but still very visual".
As an artist her music has become much more sophisticated but it's clear she has held on to the quirky, enigmatic and mythical style for which she became synonymous when she first lit up the horizon in 2006.
The Haunted Man is released on October 15.