Julian Fellowes to write Downton Abbey prequel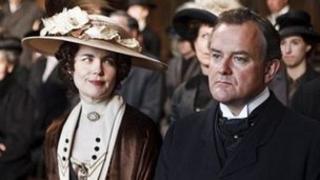 Julian Fellowes, the writer behind the hit series Downton Abbey, is writing a prequel which follows how the Earl and Countess of Grantham first met.
"I do actually have an idea of doing a prequel of the courtship of Robert and Cora, when all those American heiresses were arriving in London.
"They had a slightly troubled courtship, because she was in love with him before they married, as we know, and he married her entirely for her money," said Fellowes, speaking at the Bafta Screenwriters' Lecture series.
"I sort of feel there's something quite nice in there because he's a decent cove, and so he feels rather guilty about this which has affected their marriage beyond that."
Fellowes spoke of the prequel in book form, but - given the success of Downton Abbey - a TV adaptation seems almost certain.
The period drama, now in its third series, has proved a huge hit for ITV, and the broadcaster is keen to extend Downton's longevity - though it is rumoured that leading characters such as Dan Stevens are likely to leave the show at the end of the current series.
The spin-off drama would cast a pair of younger actors in the roles, currently played by Hugh Bonneville and Elizabeth McGovern, as his American wife.
Fellowes said any spin-off would be broadcast after the end of Downton Abbey.
"For me, any other books or plays or films should follow after the end of the television show."
"I don't think you can continue a narrative in more than one area at once," he explained.
"I never really liked those Coronation Street Christmas specials where they all go to Haiti, and you don't have to watch it. Somehow it doesn't feel very organic."
The prequel may also provide an opportunity to take the drama to America, where Downton Abbey has proved equally popular - picking up an Emmy for Britain's Dame Maggie Smith earlier this week.
"I do feel very strongly that America rescued me," said Fellowes, referring to his 2001 Oscar-winning screenplay for Robert Altman's Gosford Park.
"All the stuff in England, the stuff we have about each other, they don't care about all that. They care about whether your last picture did anything or what you're doing next."