Ewan McGregor honoured at Spanish film festival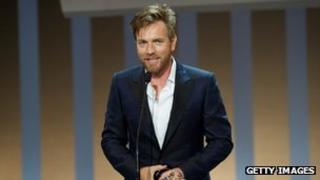 Ewan McGregor has become the youngest actor to be given the Donostia Lifetime Achievement Award at Spain's 60th San Sebastian International Film Festival.
McGregor, 41, was described as "one of the finest actors of his generation".
"It was amazing arriving and feeling the wave of love from Spanish filmgoers," McGregor said, adding: "Thank you".
Other actors who have received the accolade include Robert De Niro, Al Pacino, Meryl Streep and Woody Allen.
McGregor was at the festival to present his latest film, The Impossible.
Directed by Juan Antonio Bayona and starring Naomi Watts, the true story is based on a family that survived the 2004 tsunami in Thailand.
The San Sebastian festival runs in Spain's Basque region until Saturday.
John Travolta, Tommy Lee Jones and Oliver Stone have also been given lifetime achievement awards at this year's festival.