Emmerdale marks 40th anniversary with live episode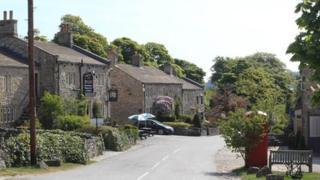 A live episode of Emmerdale will mark the ITV soap's 40th birthday later this month - and in preparation, producers have bought props on eBay, borrowed broadcast equipment used in the Olympic opening ceremony and are praying that storms stay away.
If there is a big anniversary in soapland, there must be a live episode - that seems to be the rule these days after EastEnders and Coronation Street both marked milestones by going live.
Now Emmerdale, which is celebrating 40 years since starting life as sleepy Emmerdale Farm, is having a go with a one-hour special on 17 October.
But Emmerdale producers have one big headache that their rivals did not. Its outdoor scenes are filmed in a purpose-built village in the hills north of Leeds, but most indoor scenes are normally shot nine miles away at ITV studios in the city centre.
So if a character walks into the Woolpack, the walk to the front door is filmed in the village, but the building is actually a shell and the interior scenes are filmed separately in Leeds.
Because of the distances and logistics involved, the city centre studio is not being used for the live episode. But Emmerdale would not be Emmerdale without the Woolpack - so producers have had to install the pub interior inside the actual pub building for the first time.
It has been a challenge to build a precise replica, according to the live episode's director Tony Prescott.
"Something that's 40 years old has a patina that is unique to that piece of set or furniture," he says. "Sourcing similar pieces of decoration and decor and furniture is not easy but we'll either remake it if we need to, or we can source them off eBay."
The other big soaps, unlike Emmerdale, house both indoor and outdoor sets together on self-contained lots - Coronation Street in central Manchester and EastEnders at Elstree in Hertfordshire.
"All the other live episodes have been based around a studio so obviously all their resources were there - all the equipment's there, all the power's there, the canteen's there," Emmerdale producer Stuart Blackburn says.
"Things like the make-up and costume departments are there. They're not here [in the village]. Every single thing has to be brought in - the generators and entire departments from Emmerdale have got to be moved up here.
"We've got to feed the extras and transport them up here. It's a logistical and financial nightmare at every single level.
"And then the dread fear: The weather."
The weather is one thing producers cannot control. Filming on normal episodes is often brought to a halt by bad conditions in the village, Prescott says.
"I've been in the village when the main street has become a river. We'll have to find our way around this. We've just got to do it."
Producers cannot prepare a back-up plan because there is not enough time to set up and rehearse two different scenarios, and moving indoors at the last minute would present continuity issues with the pre-recorded episodes that go before and after.
Blackburn is not worried about rain - it makes night scenes look more dramatic, he believes. "A bit of wind and lots of rain, I'd be happy with that," he says. "It's the gale force that we're dreading."
The live episode will use 27 cameras, all controlled and edited in the same giant scanner truck that was used to broadcast the Olympics opening ceremony.
But the main reason people watch live episodes is because they secretly hope it will go wrong, isn't it?
Blackburn acknowledges this and hopes that the risk, as well as the storylines (we have been promised a death, two births and two weddings), will attract new viewers who then stick with the show.
"If the irregular viewers come, and the curious - those that only watch live episodes to see if the actors mess up - that's great," he says.
"If we can get new viewers and viewers who haven't been with us for a while, I'm convinced they'll look at it and go wow, that's a really good drama."
In 2010, the EastEnders 25th anniversary had Bradley falling off the roof, while Coronation Street's 50th anniversary live episode dealt with the smouldering aftermath of a tram crash.
Is there a pressure with live episodes, as with regular storylines, to always be bigger and better than the one before?
Blackburn says he is not simply trying to outdo his rivals' most spectacular storylines, and believes soaps must stay rooted in the real world. "There's a balance with every episode and every week, regardless of anniversaries," he says. "Someone called it attention versus affection.
"Without the attention, those big headline-grabbing stories like the rapes, the murders, the affairs, then people will drift away. But if that's all it's about, then the affection goes.
"Audiences are clever. They know when you try and cheat them. Yes, it does need those moments that drive the publicity and make people stop and go: 'Wow.'
"But as important is the affection - making it credible, making it believable, making it human. It's my job to resist the temptation to be too extreme."
Now he just has to hope that the weather resists that temptation too.