BBC denies Breakfast is planning 'London return'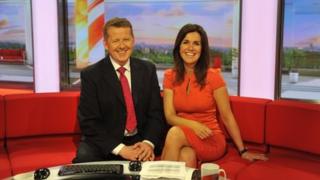 The BBC has denied claims that BBC Breakfast is planning to return part of the show to London because it is struggling to attract high-profile guests.
The flagship BBC One news programme moved to its new home of Salford, Greater Manchester, earlier this year.
Reports quoting an unamed "source" claim the "light news" section of the show could be transferred to London.
A BBC statement said "there are no plans to move any part" of the show.
"On the contrary, the show is working very well from Salford," the statement continued.
"We're delighted with the calibre of guests and experts regularly appearing on the programme."
The Daily Mail claimed discussions had been held about whether to turn the latter part of BBC Breakfast into a separate programme based in the South.
The section of the show, broadcast between 08:30 and 09:15, is currently known as "the bridge" as it "bridges" the transition from morning news to daytime TV.
Breakfast relocated to Salford's Media City in April this year, joining several other departments including 5 Live, Blue Peter, Newsround and BBC Sport.
The move was intended to help the BBC be better placed to reflect the whole of the UK.