Stars pay tribute to singer Andy Williams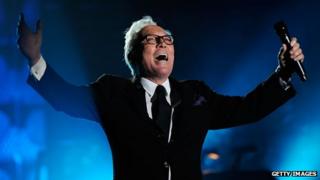 British singer Tony Christie has paid tribute to the late crooner Andy Williams, saying he will be remembered as "one of the greats".
Williams, whose version of Moon River propelled his career to great heights in the 1960s, died at his home in Missouri on Tuesday, aged 84.
"He was up there with [Frank] Sinatra, [Tony] Bennett," Christie told the BBC.
"I enjoyed a chat with him backstage at the Royal Albert Hall some years ago and he was a lovely man, very gentle."
Christie said Williams' smooth singing style matched his relaxed persona and "he was a great pleasure to have met".
Williams began singing as a child and had more than 20 hit singles over 50 years, including Music To Watch Girls By and Can't Take My Eyes Off You.
Lyricist Don Black, who wrote the song Born Free, which Williams recorded in the '60s, described him as the "ultimate professional".
"He was a great guy, he was very professional but didn't take himself too seriously. That type of performer doesn't exist anymore. It's gradually becoming the end of an era.
Black said he would miss Williams "for all that he stood for", adding: "His great songs and big band... Many people will be very sad today."
'Loved the audience'
Others in the music business also paid tribute, including those Williams helped to nurture.
Songwriter Burt Bacharach said: "His television shows were great. He made you feel very at ease with him, and he made you smile and made you connect to the music and the songs he was singing."
Donny Osmond said Williams had shaped his love of music as he watched his brothers performing with the crooner on the weekly Andy Williams Show.
Williams also gave a seven-year-old Donny voice lessons, a memory he said he treasured.
"When I finally joined my brothers and toured with Andy as his opening act and back-up singers, I was always impressed with the way he handled an audience. He loved the audience," said Mr Osmond.
"That was one of the most important lessons he taught me."
He went on: "He truly was a great singer and I will ever be indebted to Andy for giving me the opportunity to fulfil my dreams and the opportunity to be personally inspired by such a generous talent."
DJ Tony Blackburn said Williams had "so many great songs". Writing on Twitter, he said: "One of the best concerts I ever went to was Andy Williams at the Royal Albert Hall many years ago, he was tremendous."
Williams began performing on radio stations with his brothers at the age of eight, becoming a major star in 1956, the same year that Elvis Presley shot to fame.
His career reached its peak in the 1960s but he continued to perform at the Moon River Theatre he built in his home town until recent years.
Tim Burgess, frontman with UK rock band The Charlatans, described Williams' death as "another sad loss".
"Andy Williams was a real smooth guy, that's for sure. Rest in peace, Andy," he said.