Question Time to have Twitter panellist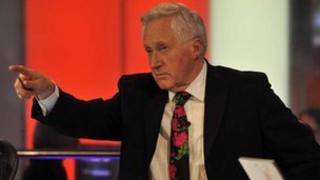 A sixth panellist is to join the line-up of Question Time to "tweet" their opinions during the BBC's political discussion programme.
A new Twitter account, @bbcextraguest, has been created, which will be used by the panellist to respond in real time to the views of the guests on air.
The show has used the social networking site to request suggestions for guests for the programme.
Ideas have included broadcaster Stephen Fry and comedian Russell Brand.
A tweet from the Extra Guest account this week thanked users for their suggestions, saying that "certain names have come up a lot more than others".
Question Time, which returns to BBC One on Thursday, previously featured text messages from viewers using the same publishing system as Ceefax.
The BBC's Ceefax service is due to end in October when the last analogue transmitters are decommissioned.
The official @bbcquestiontime Twitter account has more than 120,000 followers.