Foot sculpture makes Threadneedle Prize shortlist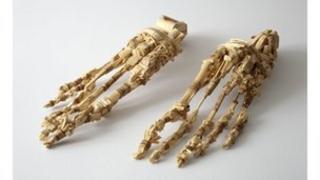 A sculpture of two skeletal feet made from wood, canvas, glue, tea and coffee is among the works on the shortlist for the prestigious Threadneedle Prize.
My Feet is the brainchild of artist Ben Greener, whose work will be on show for the first time at the prize exhibition.
Greener has spent time in Madagascar breeding endangered frogs since failing to finish his degree.
Other contenders for the £30,000 award include Sophie Levi's oil on canvas portrait titled Sheer Shirt David.
Levi's work has been collected by the likes of King's College, Cambridge, and the Prince of Wales.
Elaine Brown is shortlisted for her work Hair Triptych, while Royal Watercolour Society vice president David Firmstone is nominated for his oil painting Dreaming 2.
Ben Hendy's full-length naked portrait created using a printmaking technique called linocut also makes the grade.
Chloe Le Tissier attended the Slade School of Fine Art in London and had her first solo show in the city last year. She is shortlisted for her landscape Silken Needles.
The Threadneedle Prize is for paintings and sculptures that promote representational art - a term given to works that depict objects recognisable to the viewer.
The prize money has been increased by £5,000 this year. A second prize of £10,000 is given to the artist whose work proves most popular with visitors to the exhibition.
Judges on this year's panel include National Gallery curator Christopher Riopelle.
The winners of both awards will be announced on 10 October. The Threadneedle Prize exhibition is open at the Mall Galleries in London from 26 September to 13 October.