Sheriff spokesman hits out at Fiona Apple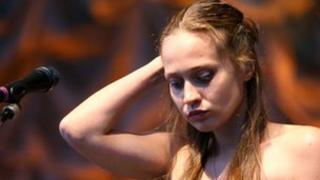 A Texas county sheriff spokesman has hit back at singer Fiona Apple, who criticised police officers following her arrest last week.
Apple spent a night in Hudson County jail after admitting possession of cannabis, found on her tour bus.
At a later concert, Apple told fans she was well treated by most jail staff with the exception of four officers.
TMZ reported that Sheriff spokesman Rusty Fleming then wrote to Apple, telling her to "just shut up and sing".
Apple told the audience at last Friday's concert in Houston: "Most of the people were very nice to me [but] there are four of you out there... the stuff that you did that I know is inappropriate and probably illegal... I'll make you famous anytime you ask."
In response, Mr Fleming penned a letter to Apple, which began: "First, honey, I'm already more famous than you, I don't need your help. However, it would appear that you need mine."
It continued: "Two weeks ago nobody in the country cared about what you had to say - now that you've been arrested it appears your entire career has been jump-started. Don't worry sweetie, I won't bill you."
Infamous checkpoint
Towards the end of the letter, he offered some "simple advice - just shut up and sing."
Mr Fleming then called gossip website TMZ Live and told presenters of its video channel that his message to Apple was: "Honey, you committed a felony in the state of Texas, this is jail, it ain't the Four Seasons.
He added: "If she has a legitimate complaint, she needs to go ahead and lodge it."
The singer-songwriter was arrested in Sierra Blanca, the same small Texas town where authorities previously caught singer Willie Nelson, rapper Snoop Dogg and The Social Network actor, Armie Hammer in possession of drugs.
Asked by TMZ why people still continue to bring drugs into the area, Mr Fleming said: "Everybody knows this thing [the checkpoint] is out here. It's not undercover, we don't try to hide it, it's been there for years.
"We bust anybody, we don't care what you do or who you are, you're going to go to jail."
Apple won a Grammy for her single, Criminal, released in 1996.
She released her latest album - The Idler Wheel Is Wiser Than the Driver of the Screw and Whipping Cords Will Serve You More Than Ropes Will Ever Do - in June, charting at number three in the US.