Once musical moves from Broadway to West End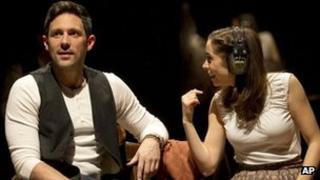 Once, the Tony Award-winning stage musical, is to transfer from Broadway to London's West End next January.
Based on the 2006 Irish film about a struggling busker who falls for a Czech immigrant in Dublin, it won eight Tony Awards including best musical in June.
The story of the musicians' love affair is told through the songs they write.
Once will replace Blood Brothers at the Phoenix Theatre, where it has run for more than two decades. It will follow a brief run of Goodnight Mister Tom.
The music and lyrics for Once were written by Glen Hansard and Marketa Irglova, who also wrote the film's score, while the script was by Irish playwright Enda Walsh, whose plays include Disco Pigs.
The film, written and directed by John Carney, was made on a shoestring budget in just 17 days and went on to win the Oscar for best song in 2008 for Falling Slowly.
The stage version dominated the Tonys, Broadway's most prestigious awards, this summer with wins including best book [script], best director and best actor.
It also won four prizes at the Drama Desk Awards in New York in June.
The Broadway show features a minimalistic set of a bar surrounded by chairs on stage, which could be accessed during the interval by the audience. Cast members never leave the stage and simply play instruments when they are not in a scene.
Booking dates and the cast and creative team for the West End production have yet to be announced.