Devil's Whore sequel to screen on Channel 4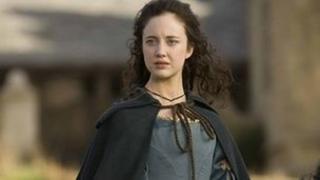 Channel 4 has commissioned a sequel to The Devil's Whore, its 2008 Bafta-nominated historical drama series.
Set during the 17th-Century English civil war, the original Starred Michael Fassbender, John Simm, Dominic West, Andrea Riseborough and Peter Capaldi.
The sequel, called New World, will be set in the 1680s, with action taking place on both sides of the Atlantic.
Channel 4 has also announced new dramas by The Iron Lady screenwriter Abi Morgan, and Skins creator Bryan Elsley.
New World will be written by Peter Flannery, who also created Our Friends in the North, and Martine Brant.
Like its predecessor, the four-part drama, will see the historic events through the eyes of aristocratic woman Angelica (Riseborough), who by now is the Countess of Abingdon, and her daughter Beth.
The restored monarchy of Charles II is resulting in tyranny, while across the Atlantic, New England colonists are struggling under the control of the English crown.
To protect her daughter, Angelica sends Beth to seek a new life across the sea, and finds herself torn between love and the ideals for which her mother stood, and her father died.
Abi Morgan's Home Before Dark is a contemporary international thriller set in Italy, America and London, that follows the hunt for a killer. It explores the way the internet can corrupt, and be corrupted by those who use it.
And Dates, by Bryan Elsley, is an observational drama series about dating - each episode featuring two people, some of whom will reappear throughout the show's run.