Alan Davies plays Liverpool after Hillsborough furore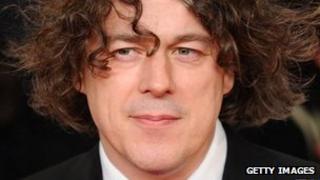 Comedian Alan Davies has been given a warm reception at his first gig in Liverpool since making controversial comments about Hillsborough.
Davies defused tension at the outset by joking that he wanted the house lights on "in case there were any riflemen".
The Liverpool Empire was not sold out and he said: "Thank you for filling at least half of this wonderful theatre."
He has said he got death threats after attacking Liverpool FC's decision not to play on the tragedy's anniversary.
Ninety-six Liverpool fans died in a crush at Hillsborough in April 1989.
This April, Davies said it was "ridiculous" that the club should not want to play on the anniversary, but later apologised for his insensitive tone.
The Jonathan Creek and QI star, who is on his first UK stand-up tour for 12 years, told the Liverpool crowd that he had considered calling the show off.
"It's been an ambition of mine to play here and I've just about scraped enough people together to make it worthwhile," he joked. "I can't thank you enough. It's much appreciated. I mean that.
"I'm generally a very sincere person. It gets me into a lot of trouble."
He made light-hearted references to the furore at the beginning and end of the show but otherwise delivered his normal routine, ranging from his experiences of parenthood to his dislike of Facebook.
His appearance came less than two weeks after official papers revealed that police changed officers' statements after the Hillsborough tragedy to remove unfavourable comments, and that up to 41 people could have potentially been saved if they had received treatment earlier.