Downton and Mad Men compete for Emmys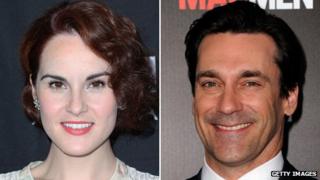 British period drama Downton Abbey and hit 1960s advertising show Mad Men are vying for glory at the Emmy Awards.
Downton is the most nominated British show ever, up for 16 including Best Drama against US heavyweights Mad Men, Homeland, Breaking Bad, Boardwalk Empire and Game of Thrones.
Mad Men has taken the prize every year since its debut, and could make history if it wins a fifth time.
The show has 17 nominations, as does American Horror Story.
Many of the British Emmy nominees attended a special party thrown by Bafta in LA on Saturday.
Downton Abbey star Jim Carter, who has one of the drama's six acting nominations for his role as Carson the butler, was one of several pondering the success of the show.
"People have a tremendous affection for it here, which is very nice," said the actor.
"I've been out and about this morning and been accosted by several friendly people."
Michelle Dockery, who plays Lady Mary, is nominated in the lead actress in a drama category; while Joanna Froggatt, who plays servant Anna, battles co-star Dame Maggie Smith for supporting actress.
Despite Downton Abbey's high profile in the US, Hugh Bonneville, who plays the head of the Crawley family - the Earl of Grantham - has remained modest.
He told reporters he would "eat my own toe" if he beat fellow nominees such as Mad Men's John Hamm and fellow British actor and Homeland star Damien Lewis to the leading actor in a drama prize.
Mad Men's Jared Harris, up for his supporting role as British accountant Lane Pryce, said the show's misbehaving characters are key to its success.
"I think it's fun to see people behaving badly," explained Harris.
"I think we have a sort of strange idea that because it was our parents' generation, that they behaved in a different way than we behaved now. Well, they really didn't."
BBC shows Sherlock, Luther and the Hour could also take home multiple prizes, with Sherlock's Benedict Cumberbatch and Luther's Idris Elba battling each other for an acting prize.
Martin Freeman is also nominated for his supporting role as Watson in Sherlock episode A Scandal in Belgravia.
Emma Thompson is nominated for her performance in The Song of Lunch, but faces competition from Hollywood stars Julianne Moore and Nicole Kidman.
In the best comedy series category Modern Family is hoping for its third win but, along with 30 Rock, Curb Your Enthusiasm and The Big Bang Theory, it also battles newcomers in Armando Iannucci's Veep and Girls.
Written, directed and produced by Lena Durham, HBO series Girls is hotly tipped.
HBO's big-budget epic Game of Thrones, which has 11 nominations, will be hoping to follow its success at last weekend's Creative Arts Emmys when it won six of the technical trophies.
Sunday's Primetime Emmy Awards show will be hosted by late-night talkshow host Jimmy Kimmel.