Celebrity MasterChef names winner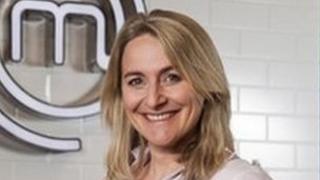 Writer and actress Emma Kennedy has been crowned the winner of this year's Celebrity MasterChef.
The 45-year-old beat former footballer Danny Mills and TV host Michael Underwood at the climax of the six-week competition.
Her winning menu included pan fried turbot and a dessert of poached meringue in creme anglaise.
Gushing about the prize, Kennedy said it was "up there in one of the all-time life achievements - wow, wow, wow".
"This is the first trophy I've ever won and what a trophy to win; there's been blood, sweat and burns that have gone into this.
"My mother is going to scream for about three months without stopping. We're probably going to have to sedate her," she joked.
Judge John Torode said Kennedy had "propelled herself to absolute greatness through sheer tenacity - the skill, the touch, the finesse, the flavours!"
Fellow judge Gregg Wallace said she had produced dishes "that are as good as many professionals - she is unbelievable".
Over the course of the series, contestants catered for the cast and crew of BBC One's New Tricks, cooking a three-course meal at the historic Bletchley Park; and created a Michelin-standard meal for four top chefs.
Kennedy's winning menu
Starter - Pea, mint and ricotta ravioli with pancetta butter and pea shoots
Main - Pan fried turbot topped with samphire with vegetable-filled leek cannelloni, crushed roast potatoes and beurre blanc sauce
Dessert - Ile Flottante - poached meringue in creme anglaise with almond praline topping and short bread biscuits
The 2012 edition of Celebrity MasterChef was shown in an early evening slot - after viewers complained about it being scheduled during the day in 2011.
Viewing figures during that series slumped - shedding more than 3 million viewers, to result in an average audience of 1.29 million per episode on BBC One.
For the current run, shown at 18:30 BST on BBC Two, the figures rallied slightly - averaging 1.75 million across the competition.