Simon Russell Beale dislocates finger on National stage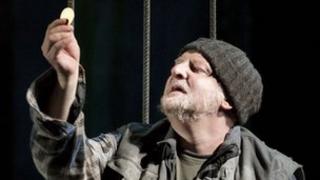 Actor Simon Russell Beale had to leave the stage during Wednesday's performance of Timon of Athens at London's National Theatre after falling and dislocating his finger.
The star slipped during an intense scene in the second half of the play.
The audience was unaware what had happened until Beale announced he thought he had broken his finger.
He walked off and, within minutes, his understudy Paul Dodds, who had been cast as a thief in the play, took over.
Dodds, who has previously had minor roles in Antigone and The White Guard, had to change costume before stepping into Beale's shoes, but a spokeswoman for the National described it as a "smooth" transition.
Speaking to the BBC, Dodds described the "numbing" moment he realised he had to take over from the play's star.
"I didn't have time to get nervous. It was about an eight-minute turnaround from Simon deciding he couldn't continue to me going on stage to replace him. I think I very quickly became some kind of pragmatist!"
The actor revealed he had had just one dress rehearsal playing Timon, as he only took over as the understudy five weeks ago.
"The audience gave me a tremendous welcome and I just got straight into it," he said.
"It's probably the only time I'll get to play a Shakespearian character in front of an audience of 1,200."
Some of those who watched the play praised the cast's performance on Twitter.
"Just saw Timon @NationalTheatre - pertinent and excellent - Simon Russell Beale and Paul Dodds both cracking (and all the rest too)," wrote Bleeding Heart Films.
"Saw Simon Russell Beale break his finger on stage," added actress Kate Bancroft. "Well done to Paul Dodds for taking over in Act 4!"
The National Theatre's spokeswoman said Beale was dressed as a "down and out" and smeared with tomatoes when he fell, "so he insisted on showering and changing out of his costume" before going to the nearby St Thomas' Hospital.
"He had his fingers splinted at the hospital. It was his right hand so he has had to slightly amend his performance," she added.
Beale resumed his role as Timon on Thursday night.