Fiona Apple spends night in jail for cannabis possession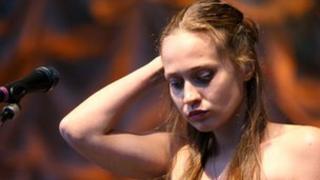 American singer Fiona Apple has spent the night in a US jail after being arrested for possession of cannabis.
The 35-year-old admitted the drugs belonged to her when police searched her tour bus at a checkpoint in Texas, near the Mexican border.
She was released on Thursday after posting $10,000 (£6,159) bail, and her jail stay passed "without incident," according to the Sheriff's office.
Apple won a Grammy for her single, Criminal, released in 1996.
The singer-songwriter was arrested in Sierra Blanca, the same small Texas town where authorities previously caught singer Willie Nelson, rapper Snoop Dogg and The Social Network actor, Armie Hammer in possession of drugs.
Rusty Fleming, from the Sheriff's office said Apple had four grams of hashish, a form of cannabis, in her possession.
The seven other people on her tour bus were allowed to drive on after Apple admitted the drugs were hers.
Mr Fleming said she was respectful and calm but became concerned when she learned she would have to stay in jail overnight
The singer was due to perform in Austin on Thursday night but the venue's website said the show had been postponed.
A spokeswoman for Apple declined to comment.
Asked why so many celebrities have been arrested in Sierra Blanca, County Judge Becky Dean-Walker said, "because they come through here with stuff they shouldn't have".
Apple released her latest album - The Idler Wheel Is Wiser Than the Driver of the Screw and Whipping Cords Will Serve You More Than Ropes Will Ever Do - in June, charting at number three in the US.