Scarlett Johansson returns to Broadway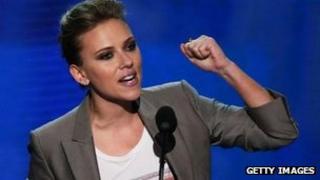 Scarlett Johansson is returning to Broadway, playing Maggie in Cat on a Hot Tin Roof, a role famously played on screen by Elizabeth Taylor.
The Avengers star won a Tony for her Broadway debut in Arthur Miller's A View From A Bridge in 2010.
In the forthcoming play, due to open in January 2013, she stars opposite Benjamin Walker, Debra Monk and Britain's Ciaran Hinds.
The Tennesse Williams drama follows a tense family gathering in Mississippi.
"I am so thrilled to return to Broadway and feel incredibly fortunate to be doing so with [director] Rob Ashford and such gifted actors," the 27-year-old actress said.
Johansson plays the headstrong wife of an ageing football hero (Walker) whose unfulfilled desires have led to his drinking and the couple's estrangement.
The play, which won the Pulitzer Prize for Drama in 1955, focuses on themes of greed, homosexuality, repression and death. The 2013 production marks its fifth revival on Broadway.
Johansson recently completed filming on Jonathan Glazer's Under The Skin, and plays actress Janet Leigh in the forthcoming Hitchcock film about the making of Psycho.
She remains best known for her leading roles in Lost in Translation and Girl With A Pearl Earring.
Earlier this year, she played superhero Black Widow in Disney's blockbuster film Avengers Assemble.
Previews for Cat on a Hot Tin Roof begin on 18 December at New York's Richard Rodgers Theater.