Oliver Stone on Savages: 'I'm interested in extremes'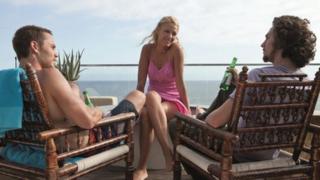 Oliver Stone's films have tackled war, politics and Wall Street. Now he is back with Savages - a sun-drenched, blood-soaked thriller about the drugs trade.
Money, power, betrayal. Oliver Stone's latest film contains the themes that have recurred throughout his career.
In Savages, he turns his camera on the marijuana scene in southern California and the arrival of a brutal Mexican cartel.
But Stone admits it wasn't just the violent drug storyline - based on Don Winslow's best-selling 2010 novel of the same name - that drew him in.
"I'm fascinated by the power that the drug money gives these people, in the same way that I'm fascinated by the power of the presidency," he says when we meet in London ahead of the film's UK opening.
"Frankly, it could have been about rabbit racing - with money, illegalities and killing attached. I'm interested in the extremes that people will go to, and the moral boundaries they will cross."
Savages stars Taylor Kitsch and Aaron Johnson as a pair of pot-growing entrepreneurs who share their home (and their beds) with beach beauty Ophelia, or O, played by Blake Lively.
But their laid-back love nest on Laguna Beach is shattered when the Mexican Baja Cartel, headed by Salma Hayek's Elena and her murderous enforcer Lado (Benicio Del Toro) demand to become business partners.
The offer arrives in a grim, emailed video of multiple beheadings. "I'd take their deal instead of decapitation," advises Dennis, a dodgy Drug Enforcement Administration agent, played by John Travolta.
"This is a hypothetical violent situation," says Stone, highlighting the source material's fictional premise. "The cartels have no interest - yet - in picking off the independent traders and growers."
But in the interests of authenticity, Stone went to Mexico, met ex-cartel members, computer hackers and worked with a former DEA agent. He also tapped the knowledge of California's marijuana farmers.
"The independent growers are fascinating people. They are all ego - like Silicon Valley people. Each one think he's a genius. I met businessmen - who don't even smoke - growing it in their warehouses."
Stone came to prominence as a film-maker in the 1980s with films like Salvador, Platoon and Wall Street. He won Oscars for directing Platoon and Born on the Fourth of July, and for writing 1978's Midnight Express.
Among his other films are Wall Street: Money Never Sleeps (2010), W. (2008), World Trade Center (2006), Nixon (1995), Natural Born Killers (1994), JFK (1991) and The Doors (1991).
He is currently putting the finishing touches to a 10-episode TV documentary series, The Untold History of the United States, which he created, executive produced and narrates.
Stone's reputation is as a tough director who works his actors hard both in rehearsal and on set. Cast members on Savages liken him to a commanding officer readying his troops for war.
Does Stone, who served in Vietnam, approach film-making as if going into battle?
"Among the 10 rules of directing is to be a tactical and strategic leader," he says. "You should have a plan, you have to organise 20 departments of specialists to work together - and not fight each other.
"But you have to go beyond that. You have to have interaction with actors at a level that is so intimate, so I think there's a doctor side, there's a friend side, there's a spiritual side.
"It's a pretty difficult journey. That's why some people can only do 20 or 25 films in their career. It takes a lot out of your life."
Savages opens with a voice-over from Blake Lively's Ophelia which hints at the dangers ahead: "Just 'cause I'm telling you this story doesn't mean that I'm alive at the end of it."
While the film ventures into dark places, Stone says he was deliberate about filming it with an eye-popping colour palette.
"The tendency has been in recent times to dirty things up and make everything look meaner," he explains. "I went the other way, to sun-drench it and pay homage to the southern Californian sun."
Savages is in cinemas 21 September.