'Lost' Dennis Hopper prints go on show in Berlin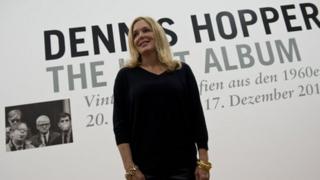 More than 400 "lost" prints by Easy Rider star Dennis Hopper have gone on display in Europe for the first time.
The photos, which include images of James Brown and Peter Fonda, were found in storage boxes when Hopper's house was cleared after his death in 2010.
The exhibition, Dennis Hopper - The Lost Album, also includes photos of the US civil rights movement and America's arts and music scene in the mid-1960s.
His daughter said it offers an "intimate" glimpse of his youth.
The black-and-white small format photos were taken between 1961 and 1967, before Hopper directed and starred in Easy Rider, the film that re-established his faltering career.
They include portraits of his family and friends, as well as the artists Andy Warhol, David Hockney and Roy Lichtenstein. Musicians Ike and Tina Turner also feature in the prints.
Photos of a civil rights march, taken in Alabama in 1965, include portraits of the Reverend Martin Luther King.
Hopper originally put them together for an exhibition in Fort Worth, Texas in 1970, but later they were put into storage and forgotten.
Curators at Berlin's Martin-Gropius-Bau museum, which previewed the show this week, tried to display the prints in a similar manner to the way they were originally exhibited.
The museum's curator Petra Giloy-Hirtz described Hopper as "a very serious artist".
"We always see Dennis Hopper as an enfant terrible, someone who was always crazy, but he took his photographic work very, very seriously."
Hopper's daughter, Marin - who helped to organise the show - said the exhibition provides "a very intimate portrayal of his thought process as an artist".
"I really felt that it was like having a conversation with him. I felt that I missed him very much and I was very happy that I could have this show to have an ongoing dialogue with him," she said.
"I just see him as a young man, having these experiences, taking these pictures, and it's really valuable for me," said Hopper's son, the actor Henry Hopper.
The exhibition runs from Thursday 20 September to 17 December.