Police drama Good Cop pulled after Manchester shootings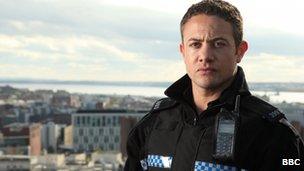 The BBC has shelved the final episode of drama Good Cop following the deaths of two police officers.
The episode, due to be screened on Thursday, features a violent attack on a female police officer.
PCs Fiona Bone, 32, and Nicola Hughes, 23, died in a gun and grenade attack in Greater Manchester on Tuesday.
"In light of news events, BBC One has postponed the final episode of Good Cop, due to transmit at 9pm tonight," the BBC said, in a statement.
The drama will be rescheduled to a later date. Repeat episodes of Have I Got News For You and Outnumbered will be shown in its place.
Good Cop stars Warren Brown, who has previously starred in Luther and Inside Man, as a frontline officer in Merseyside.
Written by Stephen Butchard - Bafta-nominated for Five Daughters - Good Cop focuses on the responses of officers dealing with 999 call-outs. The opening episode saw a police officer murdered in the line of duty.
PC Bone and PC Hughes suffered fatal injuries in a gun and grenade attack in Mottram, Tameside, after attending a house following reports of a burglary.
Police have arrested 29-year-old Dale Cregan on suspicion of their murders, and have been given until Friday morning to question him over their deaths.