Chitty Chitty sequel up for comedy writing prize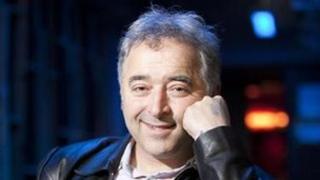 A follow-up to Chitty Chitty Bang Bang, written by the man who scripted the London 2012 opening ceremony, is up for a top children's comedy writing award.
Frank Cottrell Boyce has been nominated for a Roald Dahl Funny Prize for Chitty Chitty Bang Bang Flies Again, a sequel to Ian Fleming's 1964 original.
Comedian turned author David Walliams is shortlisted for the award for the third time for his novel Gangsta Granny
The winners will be announced on 6 November.
Four other titles are in contention for the £2,500 award, given to the funniest book for children aged seven to 14.
A second prize, also worth £2,500, will go to the title judged to be the funniest book for children aged six and under.
Cottrell Boyce's film credits include Welcome to Sarajevo, Hilary and Jackie and 24 Hour Party People.
He has has written several children's books, including Millions - based on Danny Boyle's 2004 film - and Cosmic, nominated for the Roald Dahl Funny Prize in 2008.
Former Children's Laureate Michael Rosen, chair of the judging panel, created the competition along with the reading charity Booktrust.
He said the 12 titles in contention this year were "clever, odd, intriguing and above all funny".
Comic and broadcaster Mel Giedroyc, another of this year's judges, said it was a "sheer privilege to tap into [the] fantastic books" nominated.
Nominations in the age seven to 14 category:
Chitty Chitty Bang Bang Flies Again by Frank Cottrell Boyce, illustrated by Joe Berger
Dark Lord: Teenage Years by Jamie Thomson, illustrated by Freya Hartas
The Dragonsitter by Josh Lacey, illustrated by Garry Parsons
Gangsta Granny by David Walliams, illustrated by Tony Ross)
Goblins by Philip Reeve, illustrated by Dave Semple
Socks Are Not Enough by Mark Lowery
Nominations in the age six and under section:
The Baby That Roared by Simon Puttock, illustrated by Nadia Shireen
My Big Shouting Day by Rebecca Patterson
Oh No, George! by Chris Haughton
The Pirates Next Door by Jonny Duddle
Stuck by Oliver Jeffers
The Worst Princess by Anna Kemp, illustrated by Sara Ogilvie