The Sweeney pushes Dredd off top spot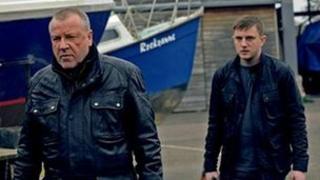 Director Nick Love's remake of vintage detective drama The Sweeney has knocked Dredd off the top of the UK and Ireland box office chart in its first week.
Starring Ray Winstone and Ben 'Plan B' Drew, the film version of the 1970s TV classic earned £1.5 million, boosted by two days of preview screenings.
3D comedy animation ParaNorman earned £1.4m to enter the chart at two.
At number three Anna Karenina made £813,395, while at number four American gangster movie Lawless took £790,378.
Dredd - the first 18 certificate film to top the UK and Ireland chart since 2010 - took £769,381 in its second weekend of release and fell four places to five.
Based on cult 2000AD character Judge Dredd, its earnings from 415 locations were down 27% on its opening weekend.
Relationship drama Hope Springs, starring Meryl Streep, Steve Carell and Tommy Lee Jones, also failed to entice cinema-goers.
It made £728,689 from 417 locations, entering the chart in sixth place in its debut weekend.
At number seven was Brave, which earned £584,321 - a slim 10% drop on the previous weekend.
The Disney-Pixar animated film has now taken £20.1m in box office receipts after seven weeks on release.
Holding on to a spot in the Top 10 was Seth MacFarlane's hit comedy Ted, which has now made just under £30m since its release seven weeks ago.