'Gotye girl' Kimbra gets chance to shine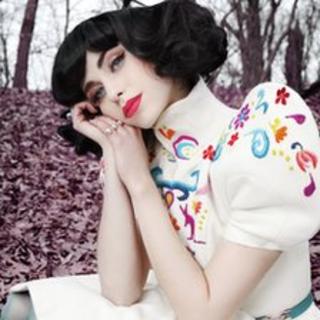 How do you follow up a guest spot on one of the year's biggest-selling pop records? New Zealand-born singer Kimbra is trying.
"Now and then I think of all the times you screwed me over. But had me believing it was always something that I'd done.
"But I don't wanna live that way, reading into every word you say.
"You said that you could let it go, and I wouldn't catch you hung up on somebody that you used to know..."
As calling cards go, you could hardly ask for better than Gotye's international chart-topper Somebody That I Used to Know.
The slow-burning, xylophone-driven ballad reached number one in 11 countries and made its Belgian-Australian creator a household name - in those households who knew how to pronounce it.
For many, however, the track owed much of its power to guest vocalist Kimbra, whose central interjections - printed above - provided a female counterpoint to its chronicle of estrangement and disillusion.
It hardly hurt that the song was accompanied by a highly memorable video featuring its two singers in body paint that made them blend seamlessly with a wall mosaic behind them.
'Ready to scream'
"It was gruelling," says Kimbra of the 23 hours it took to prepare her and Gotye ("goat-tee-yay") for the video. "I'd had experience with body paint before but this was crazy.
"By the end of it we were ready to scream at each other - which is maybe why it worked so well as a performance."
In addition to the tedium and discomfort, the 22-year-old also had to contend with being naked in front of an unfamiliar film crew.
"But you soon get past that and it becomes more of a mental challenge," she continues. "It's kind of meditative. You have to stand there and focus on not moving."
Kimbra, whose surname is Johnson and who hails from Hamilton in New Zealand, has her own theories as to why the single made such an impact worldwide.
"It came along at a time when people wanted to hear something different on the radio," she tells the BBC News website. "I think people were craving something a little more honest.
"And it also captured an emotion that everyone has felt. Everybody has been in that situation when they have felt estranged from someone, and Gotye found the words to say that in a way they could relate to."
With her raven-black bob, retro style and flamboyant fashion sense, Kimbra has already drawn comparisons with artists as diverse as Bjork, Katy Perry and Amy Winehouse.
Yet the singer says there is nothing calculated in her appearance. "I don't think there was a moment when I sat down and mapped out what my look was going to be," she explains.
"I've always had a flair for colour and clashing patterns and I've always enjoyed vintage shopping, long before I was doing music for a living."
The old-school style extends to the songs on Kimbra's debut album Vows, many of which display a jazzy and soulful feel ideally suited to her smoky, blues-tinged voice.
Yet those vocals prove equally adept at warbling upbeat, poppy tracks like Cameo Lover, a joyful floor-filler with an infectious chorus, and more experimental songs like her current single Two Way Street.
"Prince has been a big influence in terms of musicality and zaniness," says the singer, whose other inspirations include Billie Holliday, Ella Fitzgerald and Minnie Riperton.
"There's also a Japanese producer called Cornelius who I've been very inspired by. He's really into syncopation and layers and depth."
Kimbra, who can be seen this week at the Union Chapel in north London, has entered the music industry at a time when it faces threats from declining sales and digital piracy.
Having worked on Vows since she was 17, though, she refuses to be downcast. "I still believe people will pay for music if they really believe in it," she says.
"The industry is always changing but I think we'll come out OK. We just have to find new forward-thinking ways of placing value on music.
"One thing that will never change will be the demand for live performance. Maybe it's a call to us to step that up and make it even more of an amazing experience."
Kimbra performs at the Union Chapel in London on Wednesday 19 September. Her debut album Vows is available from Warner Bros Records.