Diana Vreeland: 'The Empress of fashion'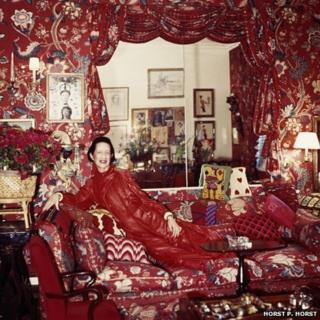 She 'discovered' Twiggy, introduced the world to bikinis and, as the boss of 1960s Vogue, paved the way for every formidable fashion editor that followed. Now a new documentary, Diana Vreeland: The Eye Has to Travel, delves deeper into the legend.
Originally intended to be a book, director Lisa Immordino Vreeland - Diana's granddaughter-in-law -ultimately decided it would be more fun to bring the late "Empress of fashion" back to life on screen.
She calls the documentary an "intimate portrait" of the former Vogue editor-in-chief, who died in 1989, and whom many view as one of the most influential women of the 20th Century.
"The fashion editor never existed before her," says Immordino Vreeland. "It was a term that she coined from her 26 years at Harper's Bazaar."
Formerly a globe-trotting wife and mother, Vreeland's fashion career started in 1936, when Bazaar editor Carmel Snow hired her after admiring her unique style and gown at a party.
Her foray into journalism began with the provocative 'Why Don't You?' column. In it, she shunned the usual 'how to make your husband happy' advice, in favour of suggesting people wash their blonde children's hair in flat champagne to make it shine.
'The golden years'
Years later, when she was passed over for the top job at Bazaar, she left to become editor-in-chief of Vogue.
"Vogue was really not an important magazine at the time - she made it into the golden years of Vogue," explains Immordino. "She just recorded everything that was going on in the sixties, the whole zeitgeist."
Vreeland certainly had her pick of talent, launching models such as Lauren Bacall, Anjelica Huston and Twiggy - models who "had personalities" - and working with photographers such as David Bailey and Richard Avedon, who dubbed her his "crazy aunt".
In the documentary, Bailey reveals that she was the first to put a picture of an unknown Mick Jagger in a fashion magazine.
Instead of classic ideas of beauty, she highlighted the unusual and imperfect, such as photographing Barbara Streisand in profile to emphasise her generous nose.
Immordino Vreeland spent "easily a year" going through all the magazines - two and a half decades worth of Bazaar and nine years of Vogue - and fashion stories fill the documentary.
"It's really a celebration of a century... not just a celebration of fashion," she explains. "I think it's exciting to see how she transcended fashion."
Hollywood inspiration
The film has already been dubbed "the original Devil Wears Prada" - and not just because it makes a catchy marketing slogan.
While current Vogue boss Anna Wintour is widely believed to have been the inspiration behind the hit novel and subsequent film, Vreeland was also partial to the odd throwing-her-coat-in-an-assistant's-face moment.
It is thought she was the inspiration for both the domineering fashion editor in the Audrey Hepburn film Funny Face - played by Kay Thompson - and Ms Maxwell in 1966 French fashion satire, Who Are You, Polly Magoo?
"To have not only Funny Face, but also Polly Magoo based on you marks you down a little bit in history," says Immordino.
"But she was clearly not happy with Funny Face. When she saw it in New York she said, 'I never want to talk about it again'."
Vreeland wrestled with her looks early on in life, thanks to her mother's nickname of "my ugly little monster", but through dance and fashion she set about transforming herself into a "dazzling persona".
The film features more than 40 interviewees, including some of fashion's biggest names, paying tribute to her wit, charm and talent as a fashion visionary.
Fact or fiction?
After being fired from Vogue in 1971 it is rumoured Vreeland spent a year in bed, before finding a purpose again at the age of 70, working at the Metropolitan Museum of Art's Costume Institute.
There she reinvented the fashion exhibition, and often the "historical truth", according to the museum's Harold Koda.
The same was true of Diana Vreeland's real life. She partied with Andy Warhol and gave fashion advice to Jackie Kennedy, yet still she would embellish everyday life to make it more exciting.
When asked to qualify if something was fact or fiction, she famously replied: "Faction!"
"She had a special filter," acknowledges Immordino. "She took things in and they just kind of came out imbued with a whole other veneer.
"The fact that perhaps it was a little bit factually incorrect, that's not what was important. What was important is that she was always trying to paint a prettier picture for us. Ultimately she was always telling us a story."
Diana Vreeland: The Eye Has to Travel is in cinemas now. It will be released on DVD on 29 October.