Priscilla Presley in Snow White panto debut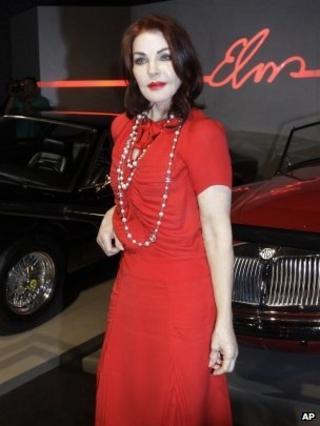 Priscilla Presley will make her pantomime debut in Snow White and the Seven Dwarfs at the New Wimbledon Theatre this Christmas.
She will play the Wicked Queen alongside Life's Too Short star Warwick Davis and comedian Jarred Christmas.
The actress, who starred in Dallas in the 1980s, said she is "delighted".
The London theatre has previously hosted productions featured David Hasselhoff and Henry Winkler, best known as 'The Fonz' in Happy Days.
Hasselhoff's former Baywatch co-star Pamela Anderson played Genie of the Lamp in 2009's Aladdin, while last year's production of Dick Whittington starred Dame Edna Everage.
"I have heard such wonderful things about British pantomime," said Presley - who was married to late singer Elvis in 1967 until 1973.
"The script is hilarious, my costume is sensational and I can't wait to get started and give the people of London my Wicked Queen.
"What a wonderful honour to be spending Christmas in such a beautiful city and be a part of this festive family tradition."
Produced by First Family Entertainment, who are behind several of the UK's biggest pantomime productions, the show will run from 7 December to 13 January, 2013.
Kevin Wood, chief executive, said: "This year we have scooped the jackpot; it's only Priscilla Presley, Hollywood royalty, TV icon and the wife of the King of Rock n Roll, Elvis Presley. This show is going to be the best yet."
Presley, who has a daughter Lisa Marie, has acted in several US TV series and the Naked Gun film series.