X Factor USA loses 3.5m viewers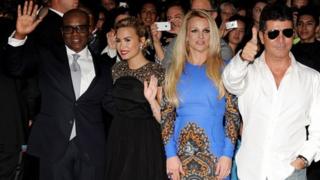 The first episode of the new series of X Factor USA was watched by an average 8.5 million viewers - down about 3.5 million on last year's opening show.
Scheduled opposite two rival talent shows, it lost out in the ratings war.
Eleven million tuned in to watch the finale of America's Got Talent, while 10.7 million watched The Voice.
The second series of X Factor USA sees Britney Spears and Demi Lovato join the judging panel alongside Simon Cowell and LA Reid.
The Voice was a last minute addition to the broadcasting schedule, after NBC bosses decided to air the new series' third episode in direct competition with Cowell's show.
The media mogul complained last week of the move, calling it a "spoiling tactic" and "mean-spirited".
'Emotional high'
Despite the lower ratings, critics and fans were impressed with the contributions of Spears and Lovato, especially Spears's cutting remarks to underperforming contestants.
"I felt like I was listening to Alvin and the Chipmunks," she told one, while she told another: "It was just kind of bad."
Entertainment Weekly's Ken Tucker said: "She did just fine, rattling off a variety of No's to the punching-bag mediocrities the producers let in for comic relief, and offering sensibly measured praise and a few out-and-out raves the rest of the time."
People magazine said: "Spears still has a lot of charm in her expressive mouth - and eyes that easily convey whatever emotion the moment requires. She has simple, undeniable physicality."
MTV's Gil Kaufman said of the opening show: "Pound-for-pound, Wednesday night's two-hour season two premiere of the X Factor packed more emotional highs and lows into just two audition segments than most one-hour dramas manage in an entire episode."
And USA Today said of Lovato: "As the only judge too young to drink, she related well to the teenage contestants, complimenting them on their glitter, cuteness, lipstick and stage presence."
The two new judges were also a hit on social media, garnering around 1.4 million comments on social media platforms.
The series will be broadcast on ITV2 on 27 September.