Scientologists 'tried to stop' The Master film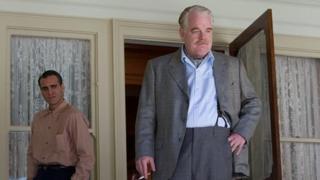 Scientologists in Hollywood tried to derail a movie inspired by the religion's founder, its studio claims.
Unnamed Scientologists applied "lots of pressure" to stop The Master being made and have it changed once filming began, studio head Harvey Weinstein said.
The film's director Paul Thomas Anderson has stated that The Master was partly based on L Ron Hubbard, who founded Scientology in the 1950s.
The Church of Scientology has denied trying to block the film.
Weinstein told BBC News: "We've had pressure and we've resisted pressure. Originally people said to me 'don't make it'. Lots of pressure.
"And then, as we were making it, we had pressure to change it. Paul's not doing that and I didn't think he chose me [to work with] because I was going to acquiesce either."
The movie tells the story of a cult leader known as The Master, played by Philip Seymour Hoffman, and a troubled World War II veteran, played by Joaquin Phoenix, who is drawn into his world.
It won awards for acting and directing after its premiere at the Venice Film Festival and is seen as an early contender for The Oscars.
Asked about the reaction from Scientologists in Hollywood, Weinstein said: "I'm not going to get into names, but they feel strongly that they think it's a religion and as such they think the subject matter shouldn't be explored.
"Paul Thomas Anderson admitted in Venice that it was about L Ron Hubbard and the early days of his teaching and the creation of Scientology. But that's not all there is in the movie."
The film is also about the impact of fighting in World War II on the armed forces, he said.
"That's what attracted me to this script - my dad saw combat in World War II and he never got over it. It's about the journey that Joaquin Phoenix's character goes through, trying all sorts of things.
"I'm not sure how Scientologists will react. So far, without seeing it, it's negative - so I just urge people to go see it and then they can react." Weinstein is a producer and distributor who has worked on films including Pulp Fiction and The King's Speech.
'Still friends'
The Church of Scientology, meanwhile, have denied any suggestion that it had attempted to block the making of The Master and pointed to earlier statements in which the film-makers distanced themselves from the movement.
"The movie is a work of fiction and the director, producer and actors have said so," a Church of Scientology spokesperson said.
"For example, Paul Thomas Anderson is quoted as saying: 'This is a fabricated story: pure fiction.' And Philip Seymour Hoffman is quoted saying: 'It's not a Scientology movie.' There is nothing more to say about the matter."
Prominent Scientologists include Tom Cruise, John Travolta, Juliette Lewis and Priscilla Presley.
Paul Thomas Anderson recently said he had held a screening of The Master for Cruise, with whom he worked on the 1999 film Magnolia.
"Yes, I have shown him the film, and yes, we are still friends," Anderson said. "The rest is between me and Tom."