Harvey Weinstein stages Finding Neverland in Leicester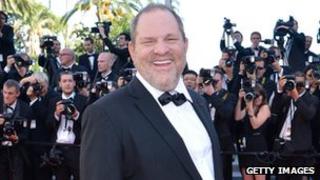 Hollywood heavyweight Harvey Weinstein masterminded the success of films including Pulp Fiction, Shakespeare In Love, The King's Speech and The Artist. Now he is turning one of his hits, Finding Neverland, into a $10m (£6.2m) stage musical in Leicester.
It is just 20 seconds into the interview and Harvey Weinstein has already casually tossed the names Quentin Tarantino, Martin Scorsese and Danny Boyle into the conversation.
If anyone is entitled to drop names, this formidable movie producer and distributor is.
He could add Steven Soderbergh, the Coen brothers, Michael Moore and Anthony Minghella to the list of the directors he has dealt with, while a quick scan of red carpet photos from down the years shows him grinning next to A-listers ranging from Brad Pitt to Nicole Kidman.
Arguably the most powerful man in Hollywood, Weinstein's name was alongside that of his friend Barack Obama on Time magazine's latest list of the 100 most influential people in the world.
Back to the interview, and Weinstein mentions Tarantino (with whom he has worked since Reservoir Dogs), Scorsese (whose Gangs of New York he produced) and Boyle (Weinstein distributed Trainspotting in the US) to highlight the fact he is not afraid to make hard-edged films.
But, he adds, he also has a softer side.
His latest project is a stage version of the enchanting Oscar-winning 2004 film Finding Neverland, in which Johnny Depp and Kate Winslet told the story of author JM Barrie.
He had the film made, he says, because his young children were fans of Peter Pan. "I wanted to do something inspirational for my children," he says, adding the interaction with them while making the movie "taught me how to be a father".
Now he is helping to turn the story into a full-scale stage musical that will receive its world premiere in Leicester's Curve Theatre on 22 September. "There are some big moments because this is a $10m musical," he says.
Weinstein has insisted on being involved at every stage of the show's creation, alongside director Rob Ashford.
Ashford specialises in the music and choreography, while stories are Weinstein's strong point, he says.
"I have been very hands-on from script to lyrics to music and casting," he explains. "In pretty much everything, Rob and I are true partners and I made that clear in the beginning. That's how I wanted to work."
His ruthless methods and brutal temper have been the stuff of Hollywood legend for two decades, and he has earned the nickname Harvey Scissorhands for his tendency to interfere in the editing of films.
For the stage show, he has used his star-packed contacts book to get pointers from the likes of Andrew Lloyd Webber, Sir Cameron Mackintosh, who would watch rehearsals and tell him which songs were weak or which bits were too boring.
"Over the years with movies, I've given directors notes," he says. "Everything I've done to people - this is great karma - is being done to me."
And it is not just theatrical luminaries who have been picking apart the show.
"My kids all feel that they've got a stake in it," he says. "They've been to every workshop in New York City. Every one of them over three years. And they've been to rehearsals in the UK."
Lily, 17, is the most critical, Weinstein says, while Emma is 14 and Ruth is nine. "You would see them at rehearsals nodding or frowning."
The producer chose the Curve theatre, which opened in 2008, for the launch because its technical and rehearsal facilities beat those of traditional British Victorian playhouses.
Leicester's mayor recently attacked the "ludicrous" cost of building and running the venue, but it may be starting to pay off after winning over Weinstein.
The roles of Depp and Winslet will be filled on stage by Foyle's War star Julian Ovenden and Rosalie Craig. There had been rumours Gwyneth Paltrow would take the Winslet part, but not even Weinstein's powers of persuasion could pull that off - yet.
Asked where he hopes the show will go if it is a hit in Leicester, Weinstein replies simply: "The West End. And then Broadway."
He then aims to adapt more shows from his films, with the next being Chocolat, the 2000 romance that starred Juliette Binoche and, again, Johnny Depp.
The story's themes of discrimination are wrapped up in a romantic drama. Stage musicals should deal with difficult issues, just as classics like Rodgers and Hammerstein's South Pacific did, Weinstein believes.
The producer is dismissive of jukebox musicals and what he terms "kiddie musicals".
"Like Rodgers and Hammerstein, I'm not afraid to deal with themes about the ups and downs of life, yet which are still entertaining, and you still feel these stories," he says.
"Chocolat deals with so many different issues. There's going to be dark and there's going to be light. I think audiences can deal with these mature themes.
"We can make family musicals and make something that people can discuss when they come home."
If Weinstein wants to deal with difficult subjects and is planning to mine his greatest hits further, how about a Trainspotting musical?
He lets out a long, low laugh. "Well, we know Danny Boyle knows how to stage things," he replies. "I wouldn't call that a family musical, but I'm game if he is."