Rolf Harris to front new TV vet show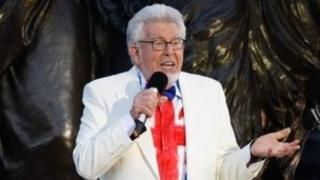 Rolf Harris has joined Channel 5 to host a new television series based in a veterinary college.
Rolf's Animal Clinic will follow students and staff at University of Liverpool's Vet School as they deal with injured and unwell domestic pets, livestock and exotic zoo animals.
The veteran artist and presenter fronted popular BBC show Animal Hospital for 10 years until 2004.
Harris said it was "wonderful" to be working with animals again.
"The welfare of animals is something that has always been close to my heart," he continued.
"It's wonderful to be presenting this series which covers the fascinating and skilled work of the vets dealing with such an amazing range of animals."
Earlier this year Harris told BBC Radio 5 Live that presenting Animal Hospital was one of his "finest moments".
In June he was seen as part of the presenter line-up at the Queen's Diamond Jubilee concert in front of Buckingham Palace.
Channel 5 called him a "fantastic addition" to its new vet show, to be broadcast in October as a series of six hour-long episodes.
Commissioning editor Ian Dunkley said the show would "get to the emotional heart of what it is to be a vet - from the drama of life-saving equine surgery, to how best to deal with an overweight pet."