Hedda Gabler pushed me out of my comfort zone, says Sheridan Smith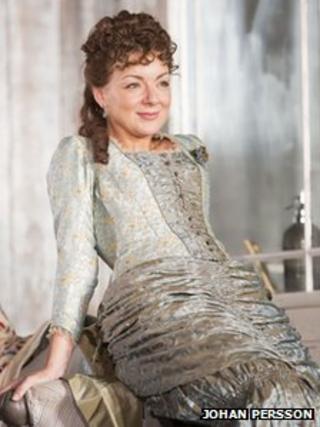 Sheridan Smith admits her latest stage role as Hedda Gabler has pushed her way beyond her comfort zone.
"I let the nerves get to me but I really enjoyed it," Smith told the BBC after the play's opening night at London's Old Vic theatre.
She said that support from her Twitter fans - and advice from Olympic athletes - had helped calm her nerves.
Hedda Gabler is often cited as one of the greatest female dramatic roles in theatre.
Smith's role in Ibsen's 19th century classic is the latest step in a remarkable career that has combined stage work with TV fame.
The star of such sitcoms like Two Pints of Lager and a Packet of Crisps and Gavin and Stacey won Olivier awards for her roles in West End musical Legally Blonde and Terence Rattigan's Flare Path.
Her recent TV appearances include ITV1 dramas Mrs Biggs and The Scapegoat and Accused on the BBC. She also has roles in three upcoming films - Tower Block, Hysteria and Quartet.
Yet the 31-year-old says her role as Hedda Gabler has been her most challenging to date.
Brian Friel's adaptation of Ibsen's masterpiece sees the newly married Hedda stifled by the reality of her life in a comfortable home with a husband she does not love.
"I was nervous when I did Legally Blonde and Flare Path but never [have I had] a role like this that's so way out of my comfort zone," Smith said.
"I'm honoured to be on the Old Vic stage. I've dreamt of it since I was a little girl."
Smith admitted she had never heard of the play when she was offered the role while filming Mrs Biggs in Australia.
"I Googled it and saw 'female Hamlet' and I was petrified," she said. "It's not a role I'd choose to play, but since it came along I would have been a fool to say no."
Smith, who has tweeted throughout rehearsals about her nerves, said her thousands of followers had helped her cope.
"I live on my own with three dogs," she said. "So my Twitter family are the ones who can tell what I'm feeling, and they're so supportive."
She also visited Olympic athletes and sought advice from them on stage fright.
"They are trained not to think about what people think of you or where your mum's sitting in the audience," the actress said.
"They just focus on the race, so I tried to take some of that on board. But as an actor you have to have that emotional side and use that anxiety and fear in a role."
Director Anna Mackmin said Smith had taken an "instinctive approach" to Hedda Gabler.
"She's compulsive viewing," Mackmin said after the opening night. "Sheridan's vulnerability adds an element which dovetails beautifully with the psychological subtlety that Brian Friel has given the play.
"It is an incredibly complicated part," the director said. "From line to line Hedda is apparently contradicting herself.
"Throughout previews there have been massive changes and last night she hit her stride. I couldn't have been prouder. If I was a footballer I'd have had my shirt pulled over my face!"
REVIEWS ROUND-UP
"What's thrilling is seeing this usually wonderfully sympathetic actress in an entirely new light. Her Hedda has a doll-like beauty and a smile that she turns on and off like a switch. Smith brings terrific poise and style to the role but also something I feared might be beyond her - entirely credible malevolence." Charles Spencer, Daily Telegraph
"Ibsen's Hedda was once described as a hoop through which every aspiring female actor must jump, and Sheridan Smith performs the feat with commendable ease and agility." Michael Billington, The Guardian
"This is a classic Hedda Gabler with an unexpectedly classic heroine. Smith, playing against type, plays with the grain of her skill, drawing out the nimble, mercurial aspects of a woman we are almost convinced is a pure villain." Alexandra Coghlan, The Arts Desk
"Smith, with her down-to-earth openness and warmth, has been cast against type in a role that has been described as the Hamlet of the female repertoire in its demands. It is with a heavy heart that I have to report that this calculated, potentially refreshing gamble has not paid off." Paul Taylor, The Independent
"Hedda Gabler is an immensely complex character whose motivations are hard to comprehend, so this is certainly a massively demanding role. But Ms Smith seems to relish the challenge and produces an exceptional, mesmerising performance." Peter Brown, London Theatre Guide
Hedda Gabler is at the Old Vic until 10 November.