18-rated Dredd tops UK box office chart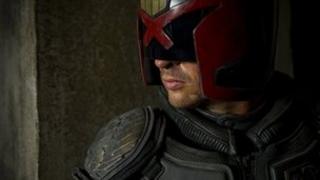 Futuristic 3D action movie Dredd has become the first film carrying an 18 certificate to top the UK and Ireland box office chart since 2010.
Based on 2000AD character Judge Dredd, it claimed the top spot after taking £1.05m between Friday and Sunday.
The last 18-rated release to top the chart was horror movie Saw 3D, which made £3.6m in its opening weekend.
Overall cinemas were hit hard by the warm weather, with takings down 42% on the previous weekend.
Dredd was the only title to break the £1m barrier, with several new releases making disappointing debuts.
Prohibition-era gangster movie Lawless claimed second place with receipts of £973,234, a figure that includes £82,469 from previews.
The combination of such rising talents as Tom Hardy, Shia LaBeouf and Jessica Chastain was not enough to attract the public to John Hillcoat's violent period thriller.
Literary adaptation Anna Karenina also failed to entice audiences in from the sunshine, making just £875,702 from its 496 screens.
Last week its producer Tim Bevan told the BBC he feared the weather might mean empty seats for Keira Knightley's latest collaboration with Atonement director Joe Wright.
Adam Sandler comedy That's My Boy, another new release, fared particularly poorly, opening outside the Top 10 in 11th place.
Exhibitors will be hoping that this week's new releases will prove more of a draw in a weekend in which there will be no Olympics or Paralympics to keep people at home.
New titles include British crime film The Sweeney, an update of the popular ITV police series that plays in cinemas from Wednesday.