Mercury Prize 2012: The nominees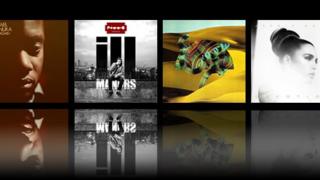 A look at the 12 acts nominated for this year's £20,000 Mercury Prize, which will be announced on 1 November.
Alt-J - An Awesome Wave
Alt-J spent five years crafting their debut An Awesome Wave after meeting at Leeds University in 2007.
As singer Joe Newman said, the band "didn't want to look like morons, so we spent ages on the little things".
Now residing in Cambridge, they named themselves Alt-J after the command used on a Mac keyboard to create Greek letter Delta, which looks like a triangle and is also used to show change in mathematical equations.
The album made the Top 20 thanks to word of mouth more than any big marketing push, and it became one of the favourites to win the Mercury Prize before even being nominated.
Reviewers have found the genre-spanning album, dubbed "folk-step" by some, hard to categorise. The BBC called it "a deeply exciting, original and inventive debut".
Watch the video for Breezeblocks
Django Django - Django Django
Four-piece Django Django met at art college in Edinburgh and are nominated for their self-titled debut album.
Their aim is to make tunes that are playful, adventurous and infectious - recalling bands like Talking Heads - with a hypnotic, dance-influenced edge.
The Guardian said the songwriting was "routinely top-notch", adding: "Surely this debut won't be topped in 2012."
Drummer Dave Maclean is the brother of The Beta Band's John Maclean, leading to comparisons with the cosmic rockers.
Field Music - Plumb
Hailing from Sunderland, art rockers Field Music were formed in 2004 by brothers David and Peter Brewis.
Plumb is the band's fourth studio album and marks their first Mercury nomination.
The record has been noted for its "off-kilter song structures, a rhythm section reminiscent of the kitchen drawer being emptied at the top of the stairs, and frequent homage paid to the protagonists of new wave".
The band is often mentioned in the same breath as their north-eastern contemporaries Maximo Park and The Futureheads - for whom Peter once played drums.
Richard Hawley - Standing at the Sky's Edge
Singer-songwriter and former Pulp member Richard Hawley has described his seventh album as "angry".
It was inspired by the death of his close friend Tim McCall, who played guitar with Jarvis Cocker, prompting Hawley to make his album guitar-driven.
The album muses on "love and all that", with Hawley concluding: "I know the future of the human race is safe in lovers' hands, not politicians'."
The title references Sheffield landmark Skye Edge, where he played as a child.
Read more about Richard Hawley
Watch Richard Hawley perform Seek It (Live at Yellow Arch)
Ben Howard - Every Kingdom
Highest chart position: 6
Born in London but raised in Devon, Ben Howard is as influenced by surfing the dark, rugged coastlines of neighbouring Cornwall as he is by singers like Bob Dylan, Jack Johnson and Jose Gonzalez.
The 23-year-old spends most of his time on the road where, he says, the acoustic, finger-picked songs from his album have developed a "harder" sound.
"We've kind of electrified some parts now, and the live shows are definitely even more diverse than the record."
Every Kingdom, released in October 2011, peaked at number six on the UK album chart. "It was a real heart record," he says. "We spent so much time on it."
Watch the video for Keep Your Head Up
Michael Kiwanuka - Home Again
Tapping into the vintage soul sounds of Otis Redding and Bill Withers, Michael Kiwanuka sticks out like a sore thumb on the Radio 1 playlist.
But his gently-strummed ballads have captivated fans from all musical walks of life, and he topped the BBC's Sound Of 2012 list in January.
"It desperately wants to be a 33rpm vinyl record," said one review of his debut album. The Londoner happily acknowledges a debt to the care-worn albums in his Ugandan parents' collection.
"At the beginning your influences are more on your sleeve than when you develop," he says. "People will find out more about me when there's more albums and more music."
Read more about Michael Kiwanuka
Watch the video for I'm Getting Ready
Lianne La Havas - Is Your Love Big Enough?
Londoner Lianne La Havas was inspired to start singing after watching Lauren Hill in Sister Act 2 and is nominated for her debut Is Your Love Big Enough?
Having spent time as a backing singer for Paloma Faith, she was tipped for success by the BBC's Sound Of 2012 longlist before releasing this summer's retro-tinged soul record.
Rolling Stone called her "a natural who uses her six-string acoustic and her husky R&B croon to create songs that fall winningly between categories: Part Bill Withers-esque neo-soul, part Bon Iver-style indie folk."
The bubbly 23-year old has already supported Bon Iver on tour and likes to take pictures of the crowd to post on her blog.
Read more about Lianne La Havas
Sam Lee - Ground of Its Own
North Londoner Lee was a visual artist, occasional burlesque dancer and teacher of wilderness survival skills before he turned his hand to folk music.
From 2006 to 2009 Sam was "adopted" by the late ballad singer and storyteller Stanley Robertson as his musical "next of kin".
In 2009, he won the Arts Foundation award for folk music for his "unparalleled insight into traveller musical heritage" as "one of the current leading lights of the folk revival".
His debut album, released in June, sees him re-interpret eight traditional folk songs drawn from across the British Isles, a number of them from gypsy and traveller communities.
Announcing his Mercury nomination, the judges saluted the "unadorned singing" and "adventurous instrumentation" that made up what they described as "an album of singular charm and beauty".
Listen to The Ballad Of John Collins
The Maccabees - Given to the Wild
For their third album, indie guitar band The Maccabees said they wanted to pursue a "cinematic" feel and a "soundtrack quality".
They chose producer Tim Goldsworthy because it was felt his work with electronic acts like Unkle could add new textures to their music.
Even more complex than their previous outings, it has won favourable comparisons with art-rock contemporaries like Radiohead and Foals.
It touches on themes including getting older and mourning the loss of innocence.
Watch the video for Feel to Follow
Plan B - Ill Manors
Ben Drew, aka Plan B, won the Brit Award for best British male after his soulful second album The Defamation of Strickland Banks became a hit in 2010.
The 28-year-old has returned to his rap roots for the follow-up Ill Manors. The album, and an accompanying film, depict brutal life on the streets of east London.
But with a rich mix of influences and sharp lyrics, it is far from oppressive.
The Daily Telegraph described it as "a masterpiece: a state-of-the-nation address as state-of-the-art pop".
Watch the video for Ill Manors
Roller Trio - Roller Trio
Described by the Guardian as "the latest group of technically awesome young genre-bending firebrands", Leeds band Roller Trio have already won praise from the likes of former Radio 1 DJ Gilles Peterson, who branded them "the new sound of UK jazz".
Comprising James Mainwaring (saxophone), Luke Wynter (guitar) and Luke Reddin-Williams (drums), the band describe their sound as "a visceral stew of conventional and experimental sounds", with influences as diverse as Tim Berne and Queens of the Stone Age.
The BBC praised for their debut album for its "taut lines that have a staccato if not stuttering quality, yet unleash a sizeable energy rush through volleys of needling four-, six- and three-note phrases".
The trio were recognised with a prestigious Peter Whittingham jazz award last year.
Read a review of Roller Trio's debut
Jessie Ware - Devotion
An English literature graduate and daughter of a Panorama reporter, Jessie Ware came to attention via guest vocals on dubstep records by Joker and SBTRKT.
Those cabinet-shaking bass sounds have transferred to her solo album, but work in contrast to the Londoner's subtle and spacious compositions.
Singles Running and Wildest Moments sound effortless, but Ware says they are the result of tireless hard work.
"I've written a load of rubbish songs to separate the wheat from the chaff."
Watch the video for Wildest Moments
Reporting by Ian Youngs, Sarah Jane Griffiths, Helen Bushby and Mark Savage