Thick of It creator encourages BBC to be 'aggressive'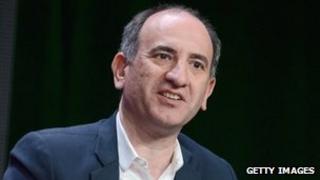 Writer Armando Iannucci has told an audience in London that the BBC should do more to fight back against its critics in government and the media.
He said the corporation should be "more aggressive... against the politicians and press barons who seek to tame it".
Creative independence "defines British television at its best," the Thick of It creator went on.
Iannucci made his comments as he gave the annual Bafta television lecture on Monday.
The writer, whose acclaimed political satire returned to BBC Two on Saturday, said politicians saw television as something to be "badgered or bullied".
"Governments whether right or left have become commissioners in chief, nudging and cajoling networks into preferred business models," he said.
During his speech - entitled Fight, Fight, Fight - he also highlighted the "increasing power" of the controller and commissioning executive.
"Separating broadcasters from programme makers gave those broadcasters a power that has grown... so that at times it becomes a form of diktat as to what the content should be."
The revelation that reality TV was "popular and cheap" led to a downturn in drama and comedy, he said.
Iannucci claimed America had now replaced the UK as the place where creative people wanted to be, because "making adventurous television [there] is becoming the norm".
"At HBO [Home Box Office] I found a refreshing commitment to me, the programme maker," he went on.
"Our drive to make what felt different and adventurous had been the hallmark of British television for 40 years."
While answering questions after his speech, Iannucci claimed that the latest Alan Partridge specials were aired on Sky because the BBC had wanted to "interfere" with the project.
Iannucci, The Guardian reported, said the BBC were wary of the Mid Morning Matters show "because it had already been broadcast online".
The BBC, the writer suggested, was missing out on new scripts because broadcasters like Sky and HBO offered "creatives" more freedom.
A TV version of Mid Morning Matters was shown on Sky earlier this year, with a second series due to be broadcast in 2013.