Tom Hanks attends Michael Clarke Duncan funeral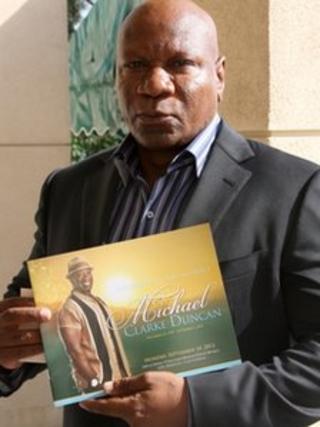 Actor Tom Hanks was among the mourners at the Los Angeles funeral of Michael Clarke Duncan, his Green Mile co-star.
The service took place at the Forest Lawn Memorial Park in Hollywood Hills on Monday and lasted almost four hours.
Singer Stevie Wonder appeared via video, playing piano and singing the opening verses of his song As for a man he called "a gentle giant".
Duncan died on 3 September at the age of 54 after failing to recover from a heart attack he suffered in July.
The former bodyguard played a wide variety of action roles and also voiced animated parts.
He was nominated for an Oscar in 2000 for his portrayal as a convicted murderer alongside Hanks in The Green Mile.
In a heartfelt speech, Hanks teased his late co-star about his penmanship which he described as "loopy and huge".
His writing, he said, resembled that of "a 12-year-old girl who loves horses".
Hanks went on to tell how the young Duncan, who grew up in Chicago, had one day decided he would join a gang.
When he told his mother, the actor said, she had struck him with a frying pan on which she was cooking a pork chop.
Hanks then imagined the 6ft 4in (1.93m), 300 lb (136 kg) Duncan sheepishly explaining to his fellow gang members that his mother would not let him join them.
"If it wasn't for that mama and the frying pan with a pork chop, we would not be here today celebrating the life of Michael Clarke Duncan," the two-time Oscar-winner said.
Duncan's fiancee, former reality TV star the Reverend Omarosa O Manigault, attended the service along with Duncan's mother, sister and nephews.
US talk show host Jay Leno said Duncan's sunny smile had grown "another millimetre on each end" when he met Manigault, whom he had planned to marry in December.
Leno said he had always been touched by the actor's positivity and lack of cynicism.
"Just to see such a pure heart and pure kindness, and to see it taken so early," he told mourners. "There are no sadder words than what might have been."
Frank Darabont, director of The Green Mile, called Duncan "a fierce warrior" and "the gentlest of souls" and said that "no one had a more positive spirit".
The film-maker also read a letter from Stephen King, in which Green Mile author wrote: "No one has ever done a character I wrote more justice."
Other speakers included Grey's Anatomy actress Loretta Devine and David Boreanaz, who acted alongside Duncan in TV drama Bones.