Terry Nutkins: Your memories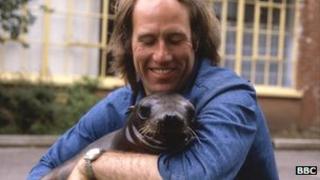 TV wildlife presenter Terry Nutkins has died of leukaemia at the age of 66.
He was famous for his appearances on BBC nature programmes like Animal Magic and The Really Wild Show.
The wildlife expert spent seven years on Animal Magic and was later seen on Growing Up Wild and Pets Win Prizes.
BBC News website readers share their memories.
Tony Woodley, West Sussex
I am an inspector at the RSPCA and I worked with Terry a couple of times in my career with animals.
I first met him in the late 80s when I was a zoo keeper.
I took animals from Bristol zoo to appear on The Really Wild Show.
Children loved him and he was passionate about what he did.
Another time I met him was at a seal sanctuary in Cornwall for a TV programme.
He always had time for people and he was genuinely interested in helping people understand wildlife.
And in the 90s we both appeared on TV during the famous Thames Whale incident.
He was a thoroughly friendly, charming man, so enthusiastic, and a great advocate for animals.
Terry, thanks for the work you've done to promote the lives of animals and for inspiring many, many children to care - you will be missed.
Jenna MacFarlane, Hampshire
I am one of the many, many people who was inspired to work with animals having seen Terry Nutkins on TV as a child.
The passion he had for wild animals was very evident and I would never have found my calling in life without his shows.
I went on to study marine biology and now I work in a public aquarium.
I am lucky to have found a job that I wanted, and love to do.
I think animals are amazing - I am fascinated by fish: their infinite variety and how they adapt to their environment.
I introduce animals to people and a major part of my job is talking about fish to school children.
My colleagues and I talk about Terry Nutkins often as many of us are of the same generation that watched his TV programmes.
I am able to educate the next generation coming up, the way that Terry did for us.
He will be truly missed.
Phil Tanser, Cornwall
I met Terry in 1992 when I was about eight or nine.
I was lucky enough to do a feature with him on The Really Wild Show.
I was a young volunteer at a bat hospital at the time.
It was in a room in a lady's house. She was dedicated to looking after bats that had been injured. She had about 100 of them.
Terry came one day to interview me, and we also recorded a five-minute sketch as Batman and Robin - Terry was Batman!
I was very excited about going on TV.
I asked him questions about his missing fingers and he explained the circumstances to me.
He was a lovely man with an honest love for nature and all the creatures within it.
I'm at university doing a psychology degree and nature and wildlife has been put on the backburner.
But when I have finished I hope to work in the animal behaviour field.
Paul Paterson, Argyllshire
It is indeed a sad loss that Terry Nutkins has passed away, deepest sympathies sent to his family at this time.
I briefly knew Terry through my work as a senior zoo keeper.
On the odd occasion I would call his home and ask him questions regarding some of the conservation issues that were happening at that time.
Once I asked for his view on the big cat sightings in the UK.
He laughed, and paused and you could hear this brilliant man's mind tick away as he was about to give his answer.
I never knew him personally, although I did speak to him a couple of times asking him about Johnny Morris and Gavin Maxwell.
My questions were always answered and happy to give them, he always made noises just like Jonny would - otter noises, bird noises and I found him to be funny.
Some people come into your life and go - I wish I got to know Terry more.
He was just a human being who enjoyed his love for animals and people. He loved being part of the natural world that he shared.
Nature has indeed lost another magical fellow creature. He was the real genuine article.
Interviews by Andrée Massiah