Rijksmuseum to reopen after a decade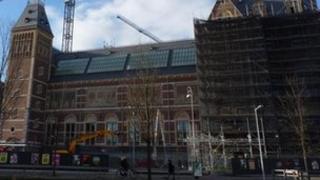 Amsterdam's famous Rijksmuseum, home to Rembrandt's The Night Watch, will reopen to the public in April 2013, after a 10-year closure.
The museum shut its doors in 2003, as part of 375m Euro project to restore and modernise the main building.
It was scheduled to re-open in 2008, but the refurbishment has been beset by problems, including the discovery of asbestos and a redirected cycling path.
It is hoped annual attendance will double following the renovations.
The re-opening comes at a time of disarray among Amsterdam's key art institutions, with the modern art museum - the Stedelijk Museum - still partially closed due to building work on an ongoing extension, and the Van Gogh Museum, the Netherlands' most popular art attraction, due to close in October for six months due to safety concerns.
'21st Century'
Main building work did not begin on the Rijksmuseum until the end of 2007, almost five years after the closure, and the museum has subsequently undergone a complete overhaul.
"It sometimes seems as if everything that could have gone wrong with the Museumplein building projects has gone wrong," said Wim Pijbes, the Rijksmuseum's general director, told The Art Newspaper back in 2011.
But he added: "We have a bright future ahead from 2013."
The revamped museum, which includes a newly built pavilion surrounded by water, promises to bring the institution - which first opened in 1885 - "completely in step with the 21st century", while restoring Pierre Cuypers' original design.
Around 8,000 works of art are being reorganised to tell the story of the Netherlands from the Middle Ages to the present day. Only The Night Watch will be returned to its original setting, at the centre of the museum
It will open 365 days of the year from 0900 to 1700 each day, despite cuts in government funding last year.
The Philips Wing, which has remained open throughout the renovations, showing a small selection from the museum's Golden Age collection, including The Night Watch, will stay open until the grand opening on 13 April.