Toronto film festival promises wealth of variety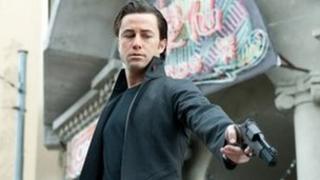 Film 2012 co-host Danny Leigh reports from the Toronto Film Festival, which boasts a typically eclectic line-up this year, in keeping with its status as a home for both commercial and art-house titles.
As the opening film of the 2012 Toronto Film Festival, Looper could hardly have been a better fit.
The dizzying story of a time-travelling assassin who ends up pursuing his older self, it's a film with mainstream appeal and marquee names in Joseph Gordon-Levitt and Bruce Willis.
But it's also refreshingly smart and fizzing with ideas. As such, it could easily be an emblem for a giant-sized festival that offers large doses of Hollywood star power while still finding room for all things art-house.
The two sides of Toronto were each in evidence on a first night where crowds thronged to see the French drama Rust and Bone at the same time as Twilight star Kristen Stewart returned to the public eye to a chorus of screaming fans.
In Looper, meanwhile, it had a film that was both entertainment and something more besides. So it felt oddly appropriate that the movie should receive two world premieres on the same evening.
With the city's sidewalks baked in sunshine, the first played host to a "fan carpet" - a red carpet outside the handsome Elgin Theatre given over not to TV crews, but to ordinary fans, who were duly rewarded when Gordon-Levitt arrived to greet them.
For the more traditionally-minded, a flashbulb-heavy affair attended by the media followed afterwards, with Gordon-Levitt now joined by a hugely laconic Willis and their co-star Emily Blunt.
Looper finds Gordon-Levitt reunited with director Rian Johnson, with whom he first worked on 2005 "high school noir" Brick.
Since then the actor has seen his profile soar, his recent role in The Dark Knight Rises only cementing his fame.
Yet Willis claimed just as much attention. Talking to the press earlier in the day, even veteran photographers grew over-excited as his gleaming head hoved into view, one exclaiming: "Bruce, is that really you?"
After the preliminaries, Johnson's movie proved gleefully chewy. "All those films you like are just copying other films," a character says at one point.
Looper certainly has fun with nods to time travel yarns that have gone before. But there is also a gravity to what becomes, as it unfolds, a poignant story about parenthood and fate.
For all his reserve, it was Willis who spoke most eloquently about how the film's emotional centre appealed to him and his own take on its premise.
"If I could go back in time, I'd make more mistakes and get to the answers I needed quicker," the Die Hard star said. "Because I've made mistakes, I've hurt people's feelings, and I'd want to be able to correct that."
Across town another kind of emotional reckoning was going on.
In recent weeks, few people can have felt the media spotlight as fiercely as Kristen Stewart, who went into hiding after revelations of an affair with a married director estranged her from boyfriend and Twilight co-star Robert Pattinson.
Having played a supporting part in On The Road, an adaptation of the novel by Beat writer Jack Kerouac, Stewart chose its Toronto screening to re-emerge.
Her "comeback" turned one stretch of Toronto sidewalk into a gauntlet of adoration. "Kristen Stewart, we love and support you always," read one banner draped over the security fences.
Her eventual appearance, looking grave but posing for pictures with fans before slipping into the cinema, brought screams of approval that might have deafened less hardy reporters.
On screen, though, there was only one winner. If Looper grips with its futuristic visions, On The Road feels stodgy with nostalgia and proves an uneven ride - though Stewart's performance is one of its stronger points.
A few streets away was a different form of dedication. Rust and Bone had its regulation red carpet glamour in the form of star Marion Cotillard.
But it also had one of the signatures of Toronto, the "rush line" - a queue of the ticketless fans desperately hoping to secure a last-minute place in the cinema.
In this case the rush line stretched over a block, a crowd well into three figures united by their desire to catch the latest from A Prophet director Jacques Audiard.
To Gordon-Levitt, it's this local passion for movies which makes the festival special: "Toronto's a festival full of cinephiles," he remarks.
"It doesn't have the glitz and glamour, and I really like that. Here it's about the films."
Which is probably one reason why Toronto is so keenly embraced by the movie industry. The old European haunts of Cannes and Venice have the romance, but for many Toronto's charms have become more seductive.
For Hollywood, there is the sense of being away from the office yet close enough to neutralise jetlag.
For audiences, there's an open-minded approach to film that makes equals of Tinseltown escapism and political documentaries, making the festival a cinematic one-stop shop.
Over 10 days, 372 films from 72 countries will be screened, among them many of the biggest films of the year ahead.
Perhaps the most intriguing is the world premiere of Cloud Atlas, the much talked-about adaptation of British writer David Mitchell's novel, with a cast including Tom Hanks.
The British literary influence doesn't end there, with debuts too for director Mike Newell's take on Great Expectations and an adaptation of Salman Rushdie's Booker Prize-winner Midnight's Children.
Paul Thomas Anderson brings his already feted The Master to another festival after its premiere in Venice. In what has become a particularly crucial staging post on the road to awards season, meanwhile, Oscar pundits already have an eye on New York-set period piece Hyde Park on Hudson.
But these are only the big fish. Indeed, as Gordon-Levitt says, in Toronto the festival is as much about the obscurities.
Even as the crush barriers were being packed up after Kristen Stewart's departure, a nearby movie house was just beginning a midnight screening of new sci-fi action flick Dredd.
Here, for the next 10 days at least, cinema will not sleep.