Simon Cowell attacks reality show scheduling clash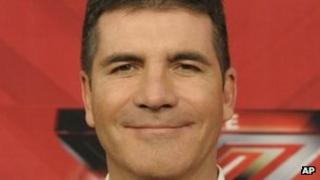 Simon Cowell has reacted angrily to a scheduling clash between the US version of The Voice and the first episode of his new US X Factor series.
Earlier this week, NBC made a last-minute decision to air a third episode of The Voice next Wednesday, on the same night X Factor returns to Fox.
"It is a spoiling tactic. They [NBC] don't want people to see this first episode," Cowell told reporters.
"I think it is mean-spirited and I hope and I pray it backfires on them."
The new series of the X Factor sees Britney Spears and Demi Lovato join the judging panel, alongside last year's judges, Cowell and LA Reid.
Former judges Paula Abdul and Nicole Scherzinger left the show after a disappointing first series, which failed to draw the expected ratings.
Rival reality show, The Voice, which launched in 2011, features Christina Aguilera, Cee-Lo Green, Blake Shelton and Adam Levine on the judging panel. It has proved a major hit for the NBC network, with the show now set to broadcast twice a year.
The latest series was originally due to begin with a two-night premiere on Monday and Tuesday next week, until NBC scheduled an extra episode against X Factor.
"I am pissed off about it, because I think there's a kind of gentleman's agreement [not to go head to head]," Cowell told reporters on the phone. "But we have to rely that the viewers will make the right selection."
The two shows pit one-time Disney child stars Aguilera and Spears against each other.
"Britney's not going to appreciate the fact that Christina - who has been a bit of a rival - isn't allowing Britney to have a night of her own," Cowell told celebrity website TMZ. "She's going to be devastated because she has put her heart and soul into this."
Perversely, the new season of the X Factor will also face competition from the finale of another Cowell reality show, America's Got Talent, which broadcasts on NBC a week later.
The first series of the US X Factor drew an average of 12 million viewers - less than half the number that watch American Idol - the talent show which Cowell left to bring X Factor to America.
Speaking after last year's debut, Cowell admitted he had been "too cocky", and suggested it was "going to take a little longer than I thought" to establish the new format.
Speaking on Thursday, he called the second series "one of the best shows we've ever made", adding that it "looks different to anything we have ever made before and I think this is the reason why NBC decided to put The Voice up against us."
The winner in the X Factor contest receives a $5m (£3.2m) contract with Simon Cowell's record label SyCo.
British host Steve Jones lost his role in the new season shake-up. His replacement has yet to be announced, after filmed auditions went ahead without a host.