The artful sound of Django Django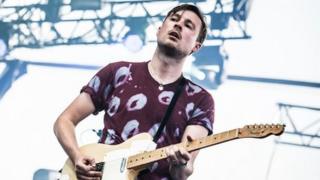 The adventurous art-pop of Django Django's self-titled debut album has made them among the favourites to be on the shortlist for this year's Mercury Prize, which is revealed on Wednesday.
The band, who met at art college in Edinburgh, make quirky, infectious tunes powered by hypnotic, dance-influenced rhythms. Singer and songwriter Vincent Neff explains why the best songs come about by accident, and why they like drumming on the Yellow Pages.
What sound are you aiming for when you write and record a song?
You can write three generic songs a day. We're trying to break out of the generic. It happens like an accident, where you think you're going to sing a certain note but do it in a way that's an accident and unusual.
You do it wrong, is that what you're trying to say?
Yeah. We're always looking out for the accidents. They're in all the music we like - if you really listen to it there's always something a bit strange or not quite right.
Maybe a keyboard's slightly out of tune on a classic recording. But it's the fact that it's slightly out of tune that makes it sound so weird.
What are some of the unusual sounds on the album?
In the early days, we only had one guitar, which doubled as the guitar and bass. We would tune the guitar down [to get the bass notes]. It was [drummer] Dave's girlfriend's really bad guitar that she bought at a car boot sale. A lot of the songs on the album are recorded with that guitar.
And then we used a lot of stuff we found lying around the house. So a drum beat might be drummed out on the Yellow Pages. I think the drum beat on Love's Dart was done on the Yellow Pages.
And coconuts. I'm constantly breaking the coconuts on tour so we're having to find a fruit and veg stall in each town we go to, which in some places is great, but in other places they have cabbage and potatoes as their main staple diet and you can't really find coconuts.
They don't really make the same sound.
It's a bit sloppy.
You often wear matching shirts on stage - is it important to have a band style?
Some bands are quite naturally cool, flamboyant and charismatic and they have their own get-up. But we like the idea of not just looking like you're going down the pub on a Friday night.
It came from when we did parties and you were on at 2 o'clock at night, and everybody's so drunk that the only thing they'll probably remember is your terrible shirt or the fact that you wore a unifying outfit.
How do you let your hair down on the tour bus?
We've got a hackeysack.
A what?
A hackeysack.
What, a little bean bag?
Yeah, we've got a bean bag, so at most service stations we try to keep that up. And we've got a set of boules. You know the French bowls? We've got a set of them in the van, and a football.
If we're in France, we always do the boules. When we're in Spain, we do the hackeysack. And in England we do the football.
Which other countries have taken to Django Django?
Australia and Japan this year was a bit of a shock. On Twitter, when radio stations play something they tweet it, so we know there was a bit of radio play there, but we hadn't quite got our heads around it.
All our gigs were sold out and we had to do a second one in Sydney. And at the festivals we played in Japan and Australia, there were maybe 15,000-20,000 crowds.
Who are your musical heroes?
We like a lot of 1960s psychedelia, Neil Young, The Kinks. I don't think I listened to anything other than Beatles albums for three or four years. Then we went through dance culture and were into a lot of Giorgio Moroder. And a lot of old surf and rhythm and blues - Bo Diddley, Link Wray, Roy Orbison.
And then we all listen to quite a lot of what you might call world music - African or Indian bands interpreting what they heard from the west, and getting it kinda wrong but also really right at the same time.
Which bands do you get compared to most often?
Without a doubt the Beta Band, maybe just because of Dave's connection [Dave Maclean is the brother of The Beta Band's John Maclean]. I can't quite hear it to be honest, but maybe I'm too close to the project.
They say we're a bit like Hot Chip - maybe a live instrumental version of Hot Chip. But again, I think Hot Chip are very unique sounding.
What would a Mercury nomination mean to you?
It would be amazing to be nominated. There were so many amazing albums out this year, it's going to be tough. But the Mercury is a big thing and we've grown up with it.
At the end of the day we're not holding our breath too much. If it doesn't happen we can concentrate on the second album more.