German magazine Brigitte overturns 'no models' rule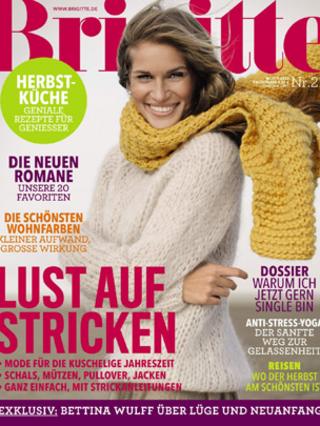 A top German women's magazine has decided to reverse its policy of not using professional fashion models.
When Brigitte made a stand against "anorexic" models two years ago, it was hailed as a blow against the fashion industry's "tyranny of size".
The move to use "real people" was hailed as a counter to the fashion world's obsession with slimness.
However a new editor has now decided to discontinue the magazine's "no models" policy.
In a letter to its readers, the magazine said: "Our goal was to restore naturalness in beauty, and to show that attractiveness has many faces".
The letter said that they had achieved that goal, but it was now time to take stock in the light of reader demand.
"Many of you recently told us, 'I approve of the idea but would simply like to see fashion sometimes', or, 'I sometimes feel distracted from the fashion if it is presented by a 'normal woman'."
The magazine said that some readers even felt bad about seeing ordinary people who were more beautiful than they were.
Readers said they were "put under pressure by how beautiful the average woman looks in Brigitte magazine. It makes me feel inferior".
At the time the move away from models was hailed by many, but also condemned by some.
German fashion designer Karl Lagerfeld called it absurd, adding that fashion was all about "dreams and illusions".
But others welcomed the move, saying it would help end the exploitation of models who were driven to dangerous levels of anorexia by an obsession with slimness in the industry - and perhaps the public.
The magazine's rationale for not using models but seeking ordinary people was that the fashion industry seemed obsessed with "size zero".
It even Photoshopped some professional models because they were too thin, giving them a fuller figure.
The editor of the time who was behind the original policy called it "disturbing and perverse".
She said "today's models weigh around 23% less than normal women. The whole model industry is anorexic."
The new editor revealed that professional models would be used occasionally but never "zero size" ones.
She said much had been achieved by the policy though: "To this day, we presented more than 1,000 women between 18 and 68 years of age in fashion and beauty photo productions, ranging from singers and housewives to policewomen and students."
The magazine said it would still welcome applications from ordinary readers to be photographed.
"We promise we will continue to abstain from presenting size-zero models," it said.
"We will also keep on looking for wonderful women to select and photograph for our projects".
The new policy, featuring professional models, will start with the next issue on 19 September.