Judy Blume recovering from cancer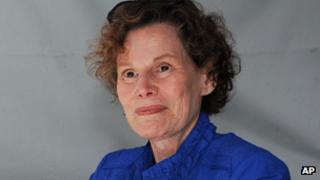 Judy Blume, author of the seminal teen novel Are You There God? It's Me, Margaret, has revealed she is recovering from breast cancer.
The 74-year-old novelist underwent a mastectomy at the end of July, six weeks after the cancer was diagnosed.
Writing on her blog, Blume said "surgery went well, one night in the hospital, very little pain", adding she was "feeling stronger every day".
The author of more than 25 books, she said she hoped to return to work soon.
Best known for 1970s teen fiction such as Then Again, Maybe I Won't, Deenie and Forever, Blume's books have sold more than 80 million copies and been translated into 31 languages.
However, their focus on adolescence and sexual issues was considered contentious when the books were first published.
Blume described her shock on learning of the cancer following a routine ultrasound in June.
"Wait - me?", she wrote on her website. "There's no breast cancer in my family... I haven't eaten red meat in more than 30 years. I've never smoked, I exercise every day, forget alcohol - it's bad for my reflux - I've been the same weight my whole adult life.
"How is this possible? Well, guess what - it's possible."
But, writing a month after the surgery, she added: "I got off easy. The cancer hadn't spread anywhere. I don't need chemo which is a whole other ballgame."
The author thanked her family and husband George, and her friends: "When it comes to breast cancer you're not alone, and scary though it is, there's a network of amazing women to help you through it."