Rolling Stones to walk London red carpet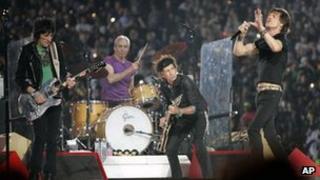 Veteran rockers The Rolling Stones are expected to attend the world premiere of a documentary about their career at the 2012 BFI London Film Festival.
Crossfire Hurricane, described as the first "comprehensive overview" of the band, will screen on 18 October.
Audiences around the UK have the chance to see live coverage of the Leicester Square premiere at their local cinemas.
A total of 225 feature films will be screened during this year's festival, which runs from 10 to 21 October.
They include Dustin Hoffman's directorial debut Quartet, the Palme d'Or-winning French drama Amour (Love) and Hyde Park on Hudson, starring Bill Murray.
The latter film recreates a 1939 meeting between US President Franklin D Roosevelt and King George VI. It has been dubbed "The King's Speech 2", after Colin Firth's Oscar-winning portrayal of George VI in 2010.
Other films receiving gala screenings include Ben Affleck's Argo, Venice opener The Reluctant Fundamentalist and A Liar's Autobiography - an animated documentary about late Monty Python member Graham Chapman, based on an audio recording of his memoirs.
As previously announced, the festival will open with Tim Burton's 3D animated feature Frankenweenie and close with a new film version of Great Expectations.
This year's showcase, the 56th, will be shorter than usual, running 12 days instead of the customary two weeks.
Clare Stewart, the festival's new director, said the event had opted for "a more condensed approach" in line with other major film festivals.
Another initiative is to divide the programme into "focused categories" clustered around such themes as Love, Laugh, Cult and Debate.
"Any festival that is screening over 200 feature films is always a challenge to navigate," Stewart told the BBC News website.
"So we thought a more experiential approach would offer entry points in that potentially daunting line-up."
New features from Michael Winterbottom, Sally Potter and Martin McDonagh will be among the 12 titles competing for the festival's best film award.
Additional prizes will be handed out this year for best first feature, best documentary and best British newcomer.
Booker-winning author Salman Rushdie and Oscar-winning French actress Marion Cotillard will be among those giving talks as part of this year's line-up.
Other celebrity guests expected on the red carpet include Billy Connolly, Charlotte Rampling, Winona Ryder and David Walliams.