Dani Harmer show axed as she joins Strictly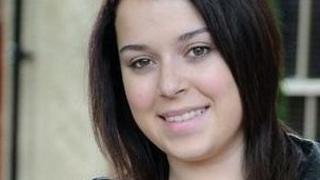 Touring musical Disco Inferno, starring Tracy Beaker actress Dani Harmer, has been cancelled, with the actress now due to join Strictly Come Dancing.
Disco Inferno's producers claimed an investor withdrew after Harmer had quit to take part in the BBC contest.
But a spokesman for Harmer said she had only signed up for Strictly after leaving Disco Inferno.
A BBC spokesman said: "We're delighted Dani is on board for Strictly and, when booked, was 100% available."
Harmer is the first celebrity to be confirmed for this year's Strictly Come Dancing, which starts on 15 September.
Writing on her Twitter account, the 23-year-old said: "I would just like to send a massive apology to everyone that has booked tickets to see Disco Inferno! Unfortunately the tour has been cancelled!
"On behalf of all the cast thank you to all your amazing tweets from you guys who have seen and enjoyed it! We're all gutted."
She later posted: "Looking forward to my next adventure. Can't wait to tell you all what I'm doing next! So excited."
A spokesman for the actress told the BBC News Website that the tour was shelved due to financial reasons.
"We share the disappointment of Dani's fans that the Disco Inferno tour was regrettably cancelled," he said.
The tour was not cancelled because Dani was offered Strictly, he said, adding: "But we are glad that Dani has now been able to accept this exciting opportunity and we look forward to seeing her on the Strictly dancefloor."
The actress participated on BBC One's Let's Dance for Sport Relief in March where she reached the final as a double act with Outnumbered's Tyger Drew-Honey.
The pair performed to Fat Sam's Grand Slam from musical Bugsy Malone but lost out to Rowland Rivron's routine to Fatboy Slim's Weapon of Choice.
Set in 1976, Disco Inferno tells of a wannabe rock star who sells his soul to the Devil to fulfil his dreams.
It features a host of songs from the 1970s including Celebration, Instant Replay, I Will Survive and Play That Funky Music.
Also starring former EastEnders actor Sam Attwater and singer Javine Hylton, the touring production had only run for one week at Malvern Theatres before it was cancelled.
It had also been scheduled for weekly runs in Aberdeen, Belfast, Derby, Eastbourne, Hull and Darlington.
The full line up for this year's Strictly Come Dancing is expected to be announced next Tuesday.