George Michael resumes tour in Vienna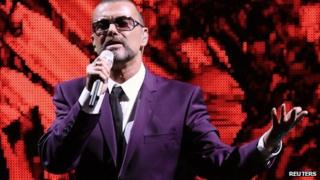 Singer George Michael has resumed his Symphonica tour in Vienna, thanking the medical staff who treated him for near-fatal pneumonia in the city last year.
The star returned to the stage at Wiener Stadthalle after postponing the tour in November when he fell ill.
Some 300 staff from Vienna's General Hospital attended the show, after being given tickets as a thank you gift.
"This is one of the greatest honours of my life, to sing to the men and women who saved my life," he said.
After telling the crowd it was "great to be alive", he performed a rendition of Nina Simone's Feeling Good at the request of one of the doctors.
Backed by the Czech National Symphony Orchestra, Michael sang renditions of Rufus Wainwright's Going To A Town and Sting's Roxanne as well as his own hits.
He also performed his new single White Light, inspired by his near-death experience.
"I think given the manner of men and women who did save my life, we could not go without singing this song," he said.
Michael donated 1,000 tickets to medical staff. However, Austrian media reported that, with the singer's permission, the hospital sold its remaining tickets to raise money for lung disease research.
The singer had completed 46 of the original 65 dates of his European tour when he was taken ill hours before he was due to perform in Vienna.
Diagnosed with severe pneumonia, he spent a month in intensive care. He revealed last month he had been "very close" to death and the experience had left a five-week gap in his memory.
Following a second date in Vienna on Wednesday, Michael will perform in Paris for an Aids charity gala this weekend and then in Amsterdam before moving on to the UK.