Daybreak revamp attracts 600,000 viewers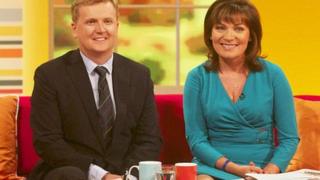 An average audience of 600,000 people tuned in to watch ITV1's revamped breakfast show Daybreak on Monday.
The show, which saw Lorraine Kelly and Aled Jones take over as hosts, peaked at 1 million viewers at 08:00 BST.
The revamp includes a new logo, theme tune and a bright orange set featuring a red sofa.
The changes were made after viewing figures fell to 300,000 in January 2011 under the watch of former hosts Christine Bleakley and Adrian Chiles.
An ITV spokeswoman told the BBC News website the channel was pleased with how the show went and was looking forward to building on it in future.
Friday's edition of Daybreak, the last prior to the relaunch, was watched by an average 500,000 viewers.
As Monday's show got underway, Kelly said it was "exciting" to be hosting the show and described its new orange set as "eternal summer".
Jones, meanwhile, admitted he had set four alarms to ensure he woke on time.
Features on the programme included items on the state of school buildings in the UK.
Actor James Nesbitt was also on the sofa, while and Little Mix performed their number one single Wings.
'Give them a chance'
Reaction to the revamp has been mixed, with some viewers saying they had preferred interim presenters Kate Garraway and Dan Lobb.
"Why are you changing things? I liked Kate and Dan," viewer Karen Mellott wrote on Daybreak's website.
"I switched from the BBC. Now looks like I will be going back to the BBC."
"ITV what are you doing? Just lost another viewer," wrote Helen Johnston. "If it's not broke simple, don't fix it!"
But Alison Hill posted: "Come on people give them a chance. I know we don't like changes but they might prove us wrong."
And Ann Shaw said: "I never watched Daybreak but I shall be watching it all the the time now."
Newspaper reviews were not as kind, with The Daily Telegraph's critic complaining that "everything was orange".
"The on-screen graphics were orange," wrote Neil Midgley. "The walls were orange. The cushions were orange. The newsreader had an orange mug."
An ITV spokesman said: "It's day one of the new Daybreak and we have had lots of positive feedback to the refreshed show."
Monday's BBC Breakfast show attracted an average of 1.4 million viewers, peaking at around 1.8 million.