Sir Paul McCartney to receive France's highest honour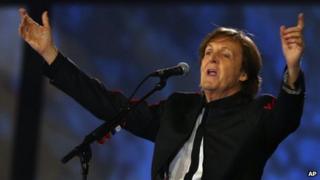 Sir Paul McCartney is to be presented with France's highest public award, the Legion of Honour.
It will be bestowed by French President Francois Hollande at a special ceremony on 8 September.
The former Beatle will be made an officer of the Legion of Honour, joining the likes of actor Clint Eastwood and singer Liza Minnelli.
McCartney recently performed to a global audience at the opening ceremony of the London 2012 Olympic Games.
The Legion of Honour was created by Napoleon Bonaparte in 1802 and comes in five grades - Knight, Officer, Commander, Grand Officer and Grand Cross.
French constitutional expert Edward Berenson called the medal Sir Paul will receive at Saturday's ceremony at the Elysee Palace in Paris "a very prestigious decoration that represents extraordinary public service".
Other musicians who have received the award include Ravi Shankar in 2000, Quincy Jones in 2001 and Dame Shirley Bassey in 2003.
Sir Paul, who turned 70 this year, has enjoyed a long and successful music career after rising to fame with The Beatles.
He and bandmate John Lennon penned such hits as Yesterday, Hey Jude and A Hard Day's Night before the Beatles split up and McCartney went on to forge a solo career.
British designer John Galliano was given the Legion d'Honneur in January 2009 by former president Nicolas Sarkozy for his services to the French fashion industry.
He was stripped of the award last month by President Hollande following his 2011 conviction for making anti-Semitic insults at a Paris restaurant.