Terrence Malick's To The Wonder confounds Venice press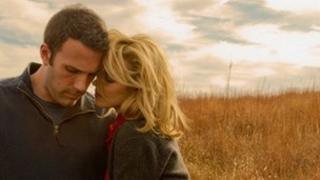 Director Terrence Malick's new film has been met with both boos and cheers from critics at the Venice Film Festival.
The Guardian newspaper hailed To The Wonder as "bold and beautiful", but Screen International concluded it "just isn't that interesting or original".
The enigmatic auteur was absent from the premiere, as were two of the film's stars, Ben Affleck and Javier Bardem.
To The Wonder follows Malick's Tree Of Life, which won the prestigious Palme d'Or at the 2011 Cannes Film Festival.
The Guardian's critic Peter Bradshaw gave the director's latest creation a four-star review and reported: "There was the now traditional storm of hissing and booing at the Venice film festival.
"Malick gets this treatment, while the most insipid, unadventurous movies here can fade to black and roll credits in respectful quiet. I can only say that I responded to its passion and idealism."
The Independent newspaper's Geoffrey Macnab described To The Wonder as "an utterly original film from a director reinventing his medium as he goes along.
"For all its foibles, To the Wonder is an entrancing film that nobody but Malick could have made," he added.
At 112 minutes, To The Wonder could be called "the longest experimental art film ever", declared Time Magazine's Richard Corliss.
He wrote: "This is a test, requiring rapt concentration and acute attention, and repaying a hundredfold. For spectators dulled by the midget movies of an artistically timid era, the film may be a chore. For those on Malick's rarefied wavelength, it's a wonder."
The film has little dialogue and stars Affleck and Bardem alongside Rachel McAdams and Olga Kurylenko, best known as Bond girl Camille Montes from Quantum Of Solace.
"There is little acting in the traditional sense and many of the emotions are portrayed through facial expressions and gestures," wrote the Agence France Presse news agency.
"While Kurylenko and Bardem mostly manage to pull this difficult performance off, Affleck is unconvincing with his gormless expressions interspersed with occasional scowls and smiles."
Screen International's Lee Marshall wrote that it "feels as if Malick has told them just to wander around looking pained", adding that "more booed than applauded" at the press screening.
"The pictures are pretty, the music is pretty, the existential voice-overs are pretty: but after almost two hours of wistful, message-larded prettiness, Malick's latest visual symphonic poem has us squirming in our seats," Marshall wrote.
The Hollywood Reporter's Todd McCarthy, meanwhile, was similarly damning. He questioned whether the film could find significant audiences in any country and added that it "seems drained of life and ideas rather than sustained by them".