The Avengers passes $1.5bn milestone and is top 2012 film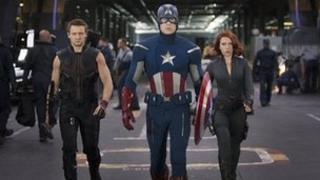 Marvel's The Avengers has passed the $1.5bn (£943m) milestone worldwide, after an extra push at cinemas over the US Labor Day holiday weekend.
According to cinema tracking website Box Office Mojo, the superhero film took $1.7m in the US and Canada last week, and remains the top film of 2012.
Meanwhile, The Dark Knight Rises became the thirteenth film in history to break the $1bn mark on Sunday.
In doing so, it has become the highest grossing Batman film ever made.
Weekend attendance at cinemas across North America was down 4% compared with the same period in 2011.
Topping the chart was new release, The Possession, which earned $17.7m (£11m), according to industry estimates.
Based on a true story, the horror film starring Kyra Sedgwick made an average of $6,294 at 2,816 sites in the US and Canada.
Opening in second place with $9.7m was the bootlegging drama Lawless, starring Shia LaBeouf, while the Expendables 2 took the number three spot.
Action film The Bourne Legacy fell to fourth place with $7.2m in ticket sales.
The Avengers, which sees a team of Marvel comic-book heroes team up to fight an extra-terrestrial threat, was directed and co-written by Joss Whedon, creator of the TV series Buffy The Vampire Slayer.
Since opening in May, it has broken several box office records and is currently ranked at number three in the list of the most successful films of all time, behind Avatar and Titanic, both directed by James Cameron.
Whedon announced last month that he would return to make the sequel of the hit movie.
Elsewhere in the US box office, the animated film ParaNorman, about a boy who can speak to the dead, held onto fifth place, earning $6.5m, while fantasy-comedy The Odd Life of Timothy Green retained its sixth place spot, bringing in $6.1m.
The Dark Knight Rises earned $5.9m over the weekend and moved into seventh place in the US chart.
The final instalment in director Christopher Nolan's Batman trilogy has so far raked in more than $431m domestically and an estimated $574m internationally for a total $1.005bn over the weekend.
By comparison The Dark Knight, starring the late Heath Ledger as The Joker, peaked at $1.003bn worldwide in 2008.
Nolan's box office figures have been achieved without the financial fillip of 3D cinema screenings, which incur a higher ticket price.
The English-born director has so far resisted filming in 3D, although he considered it for his previous blockbuster, Inception.
However, his films have been released in the big-screen IMAX format, which has similarly expensive tickets, but is less widespread.