Russell Crowe gets lost on kayaking trip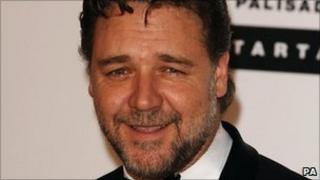 Oscar-winning actor Russell Crowe has been rescued by the US coastguard after getting lost on a kayak trip off New York's Long Island.
The 48-year-old actor and his friend, Chris Feather, set out on Saturday afternoon but got lost as night fell.
The coastguard heard Crowe call out from the shore around 22:00, after the pair were forced to beach their kayaks.
Crowe posted a message on Twitter in the early hours of Sunday, thanking the rescue team "for guiding the way".
Later, he added: "Not lost, we knew where exactly where we were, paddling around from CSH [Cold Spring Harbour] into wind, we ran out of day.
"Grand adventure eh @chris_feather?"
Coast Guard Petty Officer, Robert Swieicki said he had not recognised the Gladiator star as he and Feather, a personal trainer, paddled over to the rescue boat.
He insisted the award-winning Australian actor "just needed a little bit of help", adding "he just got a little lost".
"It wasn't really a rescue, really, more of just giving someone a lift," said Swieicki.
The coastguard officers lifted the pair and their kayaks into the boat and ferried them to Huntington Bay, 10 miles from where the pair had set out on their trip.
Swieicki said Crowe, who was grateful and friendly, seemed like he was a fairly experienced kayaker.
He said no one was injured, and the two men were wearing life vests.
Crowe has previously played a naval commander, Captain "Lucky Jack" Aubrey, in the Oscar-nominated drama Master And Commander: The Far Side Of The World.
The star is currently on Long Island playing the biblical seafarer Noah, in a big budget film by director Darren Aronofsky, scheduled for release in 2014.
He won an Academy Award for best actor for his role as a Roman soldier called Maximus in Ridley Scott's Roman epic, Gladiator.