Dionne Warwick: Hal David death like 'losing a relative'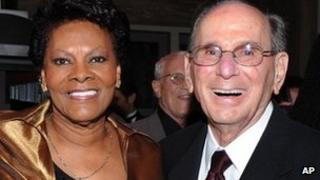 Dionne Warwick has compared the death of lyricist Hal David to losing "another family member".
The soul singer, who also lost her cousin Whitney Houston this year, issued a statement after 91-year-old David died in Los Angeles on Saturday.
She said she would "always have him with me, each time I sing the lyrics" to songs such as Walk On By.
Motown star Smokey Robinson also paid tribute, calling David "one of the greatest composers ever".
David and his co-writer Burt Bacharach created a succession of timeless hits for Warwick and many other top acts of the time, including Aretha Franklin, Frank Sinatra and Tom Jones.
Their discography included the likes of Raindrops Keep Fallin' On My Head, I Say A Little Prayer, What's New Pussycat? and Do You Know the Way to San Jose?
Bacharach said in a statement that David's lyrics for A House Is Not A Home and Alfie were "as good as you can get".
'A shining star'
Other stars in the music business have paid tribute to the David, including Simply Red's Mick Hucknall, who tweeted: "RIP Hal David. Superb American lyricist... He composed some of the greatest ever songs. A shining star".
Grammy award-winning songwriter Barry Mann called David a "brilliant lyricist and elegant gentleman who knew how to write for women", while the band Massive Attack said he was a "songwriting genius".
In 1974, David joined the board of the American Society of Composers, Authors and Publishers and served as president from 1980 to 1986. He was head of the Songwriters Hall of Fame from 2001 to 2011, and was chairman emeritus at the time of his death.
The society's current president, Paul Williams, said in a statement: "As a lyric writer, Hal was simple, concise and poetic - conveying volumes of meaning in fewest possible words and always in service to the music.
"It is no wonder that so many of his lyrics have become part of our everyday vocabulary and his songs [form] the backdrop of our lives," he added.